• KitchenRemodel • Organize • ProjectManagement • SettingUpATemporaryKitchen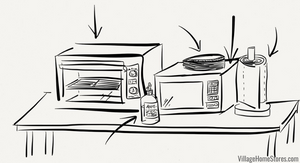 ss. During that process you will need a temporary kitchen to prep and clean in. How can you keep the essentials handy for your day-to-day life? You set up a temporary kitchen! This can be located in a dining room, living room or even a corner of the kitchen itself. Here are our suggestions for some setup zones you may need and 15 must-haves to be sure and keep handy during your kitchen remodel with Village Home Stores. Print off a quick reference of these suggested items right here. Set up a Meal Prep Space: Temporary kitchen setup during a remodel...
---
• Kitchen • KitchenRemodel • KitchenRenovation • Projects • Remodeling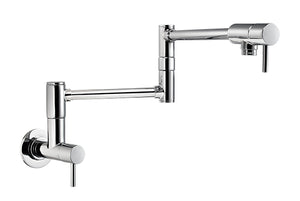 Extreme How To - DIY Home Improvement We cover a lot of remodeling projects in the pages EHT, but when it comes to kitchen renovations, the project usually revolves around placement of the new appliances. Here's a roundup of innovative new appliances to consider when planning your next upgrade. Pfister PotFiller Faucets Potfiller faucets are standard features of your favorite restaurant kitchens. Why not bring that same convenience to your home kitchen and make it easy to fill pots where they're used? Among the Pfister line of potfiller faucets is the Lita Wall-Mounted Potfiller. Featuring a sleek design and two...