• Advice • DIY • Feature • Stories • TopStory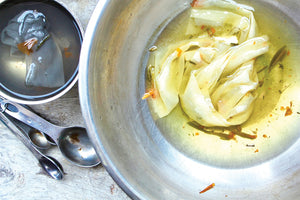 In Spinning Plates, cook and self-professed vegetable enthusiast Julia Sherman (you might know her as Salad for President) shares how you, too, can make your way in and around the kitchen with confidence. There's a troubling disconnect between my preference for crisp white shirts and my hopeless habit of dragging my sleeves through sauce. I am a tornado in the kitchen, an impulsive gardener with no time for gloves, and a passionate eater with little regard for wardrobe casualties (not to mention, the mother of a 10-month-old who has reassigned my shoulder as a napkin). So instead of trashing my collection of splattered and...
---
• Feature • FoodNews • HomemadePasta • HowTo • LauraSchenone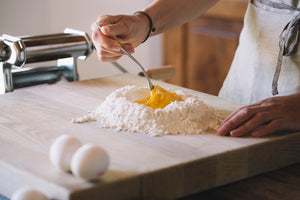 Have a pasta machine you never use? Dust it off and learn how to make homemade fresh pasta from Laura Schenone, James Beard Award winning author of "The Lost Ravioli Recipes of Hoboken." She shares some tips and tricks for perfecting fresh pasta (most of which are still handy even if you don't have a machine—in which case, you can make fresh pasta with a rolling pin): Follow along with the video above, or check out our Fresh Pasta Dough recipe if you need to see it written out. Note that while we stick to just eggs, flour, and salt...
---
• BestBuyShowcase • Bosch • Feature • MajorAppliances • Showcase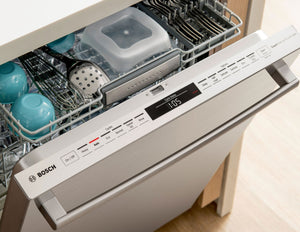 In most kitchens, there are a few dishes that get skipped when it's time to fill the dishwasher. If you don't normally put large bowls, plastic dishes, or bottles in your dishwasher because they don't dry properly, it's time to take a look at Bosch 800 Series dishwashers. With patented new CrystalDry technology to transform moisture into heat up to 176˚F, you get dishes that are 60% drier.* The Bosch 800 Series dishwasher has the 'ultimate dry' to ensure every dish, including plastic dishes, will be perfectly dry and ready to use the second you open the dishwasher door. Along...