• Breakfast • Cakes • Fruit • HolidayRecipes • Mother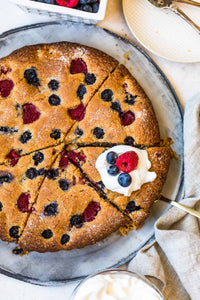 This delicious blueberry raspberry coffee cake is loaded with fresh fruits and makes for a wonderful mid-afternoon treat. This muffin top coffee cake is simple to make and loaded with flavor. I do love a coffee cake, especially when they are bursting at the seams with fresh fruit! This delicious cake is best enjoyed with a cup of coffee and topped with some whipped cream! How To Make Blueberry Raspberry Coffee Cake Be sure to scroll down for the full recipe! Prep: Pre-heat your oven and spray a cake pan with non stick spray. Combine: Whisk the dry ingredients together...
---
• AppleFritterBread • Baking • Bread • Breakfast • wprecipemaker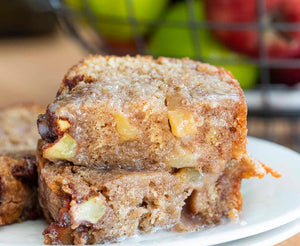 This Apple Fritter Bread is inspired by my Apple Fritters. I wanted the same amazing flavors but to be able to bake it instead of frying. The entire family agrees it's a winning quick bread! Apple Fritter Bread This bread has all the goodness of Apple Fritters but is a "quick bread" which means you can bake it instead of frying. Cut apples are surrounded with cinnamon and brown sugar to almost caramelize in the oven and create a soft texture that will melt in your mouth! What is in Apple Fritter Bread? The ingredients are pretty basic and chances...