• BestBuyShowcase • Bosch • BoschDishwasher • MajorAppliances • Showcase
In most kitchens, there are a few dishes that get skipped when it's time to fill the dishwasher. If you don't normally put large bowls, plastic dishes, or bottles in your dishwasher because they don't dry properly, it's time to take a look at Bosch 800 Series dishwashers. With patented new CrystalDry technology to transform moisture into heat up to 176˚F, you get dishes that are 60% drier.* The Bosch 800 Series dishwasher has the 'ultimate dry' to ensure every dish, including plastic dishes, will be perfectly dry and ready to use the second you open the dishwasher door. Along...
---
• AD • boschcrystaldry • boschdishwasher • boschkitchen • LaborDay • mynewboschdishwasher • Shopping • TipsForReplacingYourDishwasher • WhatFeaturesAreImportantInADishwasher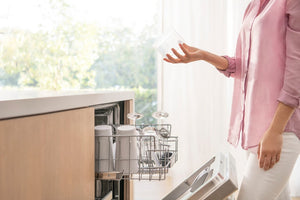 Are you on the hunt for a new dishwasher? The best dishwasher? I love having a clean kitchen, clean and sanitized dishes, no fuss after dinners or hosting guests. Just pop your dishes into the dishwasher to let the magic happen. Then pull out your sparkling clean dishes that are washed and sanitized. But, dishwashers are NOT all built the same! We are sharing things to consider when buying a dishwasher.  For today's post, we are partnered with Best Buy and have been compensated. #AD We hope this post helps you select a dishwasher that will fit your needs and...