• ApplianceReviews • GECafe • GEDishwasher • GEDishwashers • GEProfile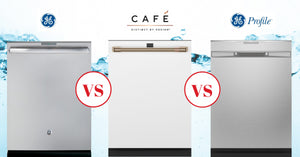 In this comprehensive review, we look at the different series of GE, Profile and Cafe dishwashers and their features so you can decide if this is a brand that fits your needs. Shopping for a new dishwasher can be an overwhelming experience. With so many brands that look almost identical in finish and size, along with varying features and wash cycles, how do you choose? Sticking to your purchasing budget, we recommend that you do your research to find out what features are available since new technologies are being introduced all the time that make dishwashing easier than ever before....
---
• ApplianceReviews • DishwasherReviews • PanelReadyDishwashers

When you are installing a new kitchen, you will no doubt be aiming for the three principles of modern functionality and design - clean, open, and minimal. If you aiming for a seamless flow in your kitchen, you might be interested to learn more about panel ready dishwashers. Panel ready dishwashers allow you to seamlessly blend your appliance in with your new cabinetry - without that obvious stainless steel look and a device protruding out from your cabinets. These dishwashers come ready for you to apply your own front 3/4-inch or 1/2-inch panel in the same material as the rest...
---
• ADACompliantDishwashers • ADAHeightDishwashers • ApplianceReviews • BoschDishwashers • DishwasherReviews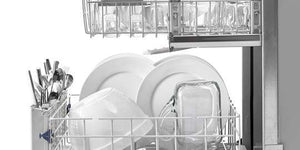 In 1990, the United States passed the Americans with Disabilities Act (ADA). We owe modern design of dishwashers to this law including doing away with cumbersome or unwieldy features like levers. These days ADA compliant dishwashers refer to the height of the product itself. ADA-compliant dishwashers are approximately 32 inches tall (mind you the legs can be adjusted to a degree based on the chosen model) as opposed to the 33-34 inch height that's standard on most other dishwashers. This can be a problem if your previous cabinets and flooring were installed around a standard dishwasher, and you now require...
---
• ApplianceReviews • DishwasherReviews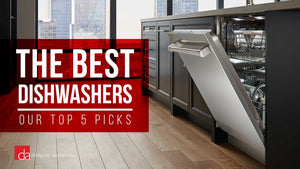 Selecting a dishwasher that fits your needs and budget can be intimidating with hundreds of different models to choose from. To make it easy, we carefully curated our top 5 dishwashers of 2019, so you can feel confident with your decision. As the hardest working appliance in your home, dishwashers continue to evolve, always bringing new functions and better quality year after year. So how do you choose the best dishwasher from over 20 brands and hundreds of unique models? We've done the legwork for you and created this guide by carefully curated our top 5 dishwashers of 2019, so...
---
• ApplianceReviews • DishwasherReviews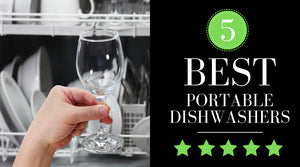 It makes sense to invest in a portable dishwasher if your apartment, your vacation home, or RV has a small kitchen. You will not only have one less chore to attend to but also save valuable storage space in your cabinets. These small dishwashers come in two styles - the larger capacity portable dishwasher on rollers or the smaller capacity countertop dishwasher. We refer to both of these styles as portable dishwashers as you can move them around easily, unlike built-in dishwashers, which are stationary. Considering that there are only less than a handful of unique manufacturers that make these...