• Baby • BabyGear • BabyTips • Toddler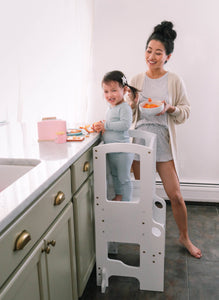 BP shorts pajamas xxs (style name after my own heart ; ), Express balloon sleeve cardigan xxs. On Nori: pajamas set 2T (lightweight, soft & stretchy), hair clips, Kidkraft toaster As we've been at home pretty much 24/7 for the past few weeks, our assortment of toddler gear has really been put to the test. We live in a very small space, so every major item we get has to be carefully considered with the hope it will be useful for a long time. Overall, we've been focused on finding things that are sized for Nori (currently 20 months) and...
---
• Baby • Family • Motherhood • Newborn • Walmart
Reactivate it to view this content. I feel like I have so many friends either pregnant or with newborns at home and I literally live for sharing all my favorite baby finds. It can be SO overwhelming as a new mom knowing what things actually work, what you should register for and just what you should try next for your baby. We made it 1 year over here (YAY!) and excited to share that September is Best of Baby Month on walmart.com which means they are having some incredible savings on over 700 baby products online. It's basically like Black...