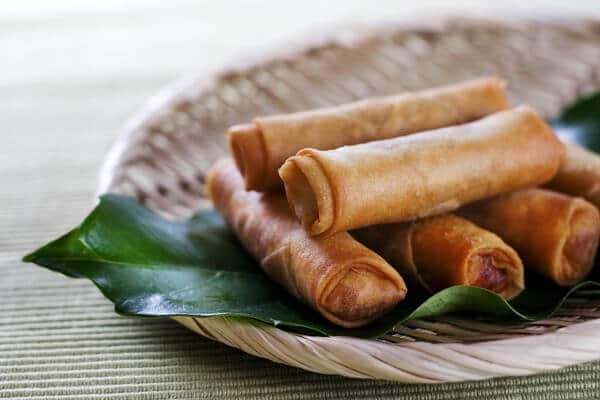 In this Chinese Egg Rolls recipe, youll learn how to make authentic egg rolls with a light,
crispy skin. Well show you how to choose the best wrappers that are delicate (not the thick, doughy, bubbly kind). Youll learn how prevent egg rolls from becoming soggy. Step by step how to wrap the egg rolls so that oil doesnt seep into the roll, and lots of secrets from my Mom. This is her famous Chinese Egg Rolls recipe!
Chinese Egg Rolls
Once you make these egg rolls, you'll never make them any other way! Make sure you get the correct egg roll wrappers. They should be FROZEN and very thin, almost paper thin. Do not use egg roll wrapper found in the refrigerated section (usually near tofu) in Western supermarket - they make starchy, thick, gooey egg rolls with big bubbles on outside when you fry. It's important to make sure you keep your wrapper and rolled egg rolls under plastic wrap so that they do not dry out!
50

Spring/Egg Roll Wrappers

about 2 packages, defrosted unopened at room temperature for 45 minutes or in the refrigerator overnight

1

tablespoon

cornstarch

mixed with cup of cool water to seal egg roll

Cooking oil

for frying

1

tablespoon

soy sauce

1

teaspoon

cornstarch

1

pound

ground pork

head of cabbage

about 11 ounces

6

fresh shiitake mushrooms

stems discarded

1

cup

julienned carrots

2

cloves

garlic

very finely minced

1

teaspoon

grated fresh ginger

1

tablespoon

Chinese rice wine

or dry sherry

1 1/2

tablespoons

soy sauce

1/4

teaspoon

sugar

1

teaspoon

sesame oil

Freshly ground black pepper
In a bowl, mix together the soy sauce, cornstarch and pork. Marinate at least 10 minutes. In the meantime, shred the cabbage and the carrots using your food processor or by hand. Slice the mushrooms into very thin strips (or you could use your food processor and pulse a few times to get a fine dice.

Heat a wok or large saute pan over high heat. Add the cooking oil and swirl to coat. Add the marinated pork and stir-fry until no longer pink, about 2-3 minutes. Turn heat to medium-low, push the meat to one side of the pan. Add the garlic, cabbage, carrots, ginger and the mushrooms and stir-fry for 1 minute, until the vegetables are softened. Add the rice wine, soy sauce, sugar, sesame oil and black pepper. Continue to stir-fry for another minute. Scoop out the filling to a baking sheet and spread out to cool. Prop up one end of the baking sheet so that it tilts and will allow all the moisture to drain to one end. Let cool for 15 minutes.
Discard all of the accumulated juices. Use paper towels to blot the filling to rid of extra oil or juice. Now, you're ready to wrap (see step by step photos in the post for instructions on how to wrap).

IMPORTANT: Only use 1 heaping tablespoon of filling for each egg roll. These are slender egg rolls, the width of the egg roll should only be 1.25" diameter.

Keep the rolled egg rolls in neat, single layer and covered with plastic wrap to prevent drying. If you want to stack the egg rolls, make sure you have layer of parchment paper in between the layers to prevent sticking. Keep wrappers also covered with plastic wrap to prevent drying. Refrigerate up to 4 hours until ready to fry or freeze.
If you want to freeze the egg rolls, lay the rolls in a single layer inside a gallon freezer bag. If they overlap, they might freeze and stick together. They can touch side by side, but try not to overload bag. When ready to cook, do NOT defrost, or they will be a soggy, deformed mess. Fry the egg rolls frozen (see below).
Fill a wok or pot with 2 inches of high-heat cooking oil. Heat the oil to 350F (175C) or until a cube of bread will fry to golden brown within 10 seconds. Gently slide in or lower the egg rolls, frying 4 to 6 at a time, turning occasionally until golden brown about 1 minutes. Place on wire rack to drain and cool.

NOTE: To fry frozen egg rolls, do not defrost the egg rolls just add them to the oil frozen, frying 4 to 6 at a time. Add an additional 1 minutes to the frying time since they are frozen.
https://steamykitchen.com/13029-chinese-egg-rolls-recipe.html