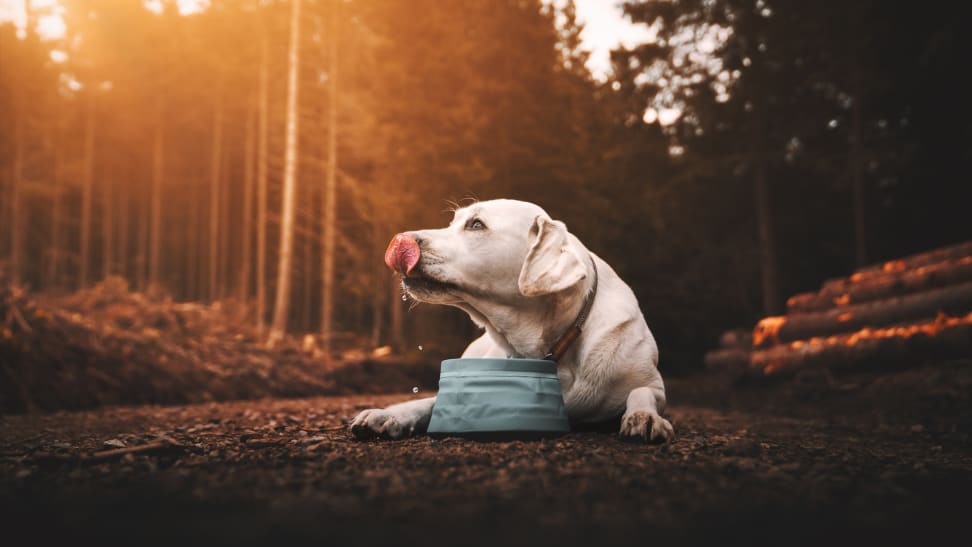 — Recommendations are independently chosen by Reviewed's editors. Purchases you make through our links may earn us a commission.
Whether you're going on a leisurely vacation or an active, outdoorsy adventure, it's generally made twice as nice by the presence of your dog! But since room in one's luggage (or packed-to-the-brim RV) is always at a premium, adding your pup's belongings to the mix can seem a bit daunting.
That's where super portable travel bowls come in. While furry companions can probably last a few days without their favorite blanket or artfully chewed stuffed toy, they'll always need accessible food and water.
And no matter the type of trip, after testing the most popular travel dog bowls, we discovered the Dexas Popware Elevated Feeder (available at Amazon for $13.34) should become your go-to bowl when you're on the go. It comes with sturdy yet collapsible legs that fold out, so your pup can drink and sup from a safe and comfortable posture.
But we also found there are other great bowls that are custom-made for specific types of travel, so we made sure to stress-test the best!
These are the best travel dog bowls we tested ranked, in order:
Dexas Popware Elevated Feeder
Comsun 2-Pack Collapsible Dog Bowl
Vittles Vault Gamma Travel-Tainer
Lixit Waterboy Travel Bowl
Ruffwear Bivy Dog Bowl
Kurgo Collapsible and Portable Travel Bowl
Winsee Collapsible Dog Bowls
Bonza Collapsible Dog Bowl
Healthy Human Portable Pet Bowls
Outward Hound Pet Travel Bowl
Petvins Dog Water Bowl Pet Slow Feeder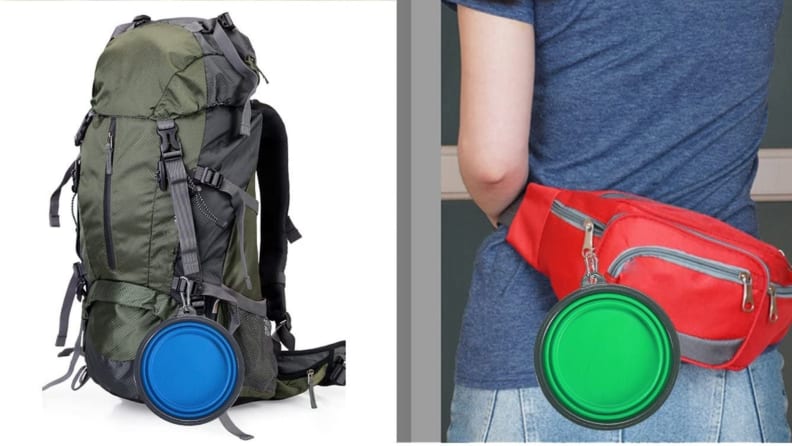 How We Tested Travel Dog Bowls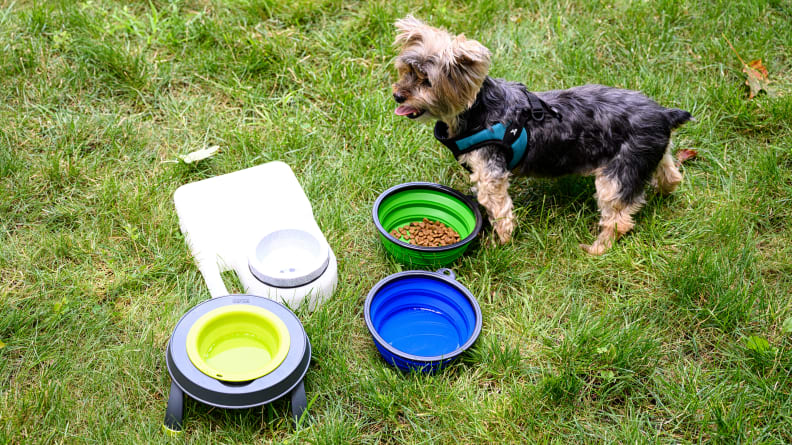 The Tester
I'm Sarah Zorn, and I've reviewed dog products, developed pet-friendly recipes, and written animal rescue stories for outlets like Rachael Ray Every Day and Animal Fair magazine for almost 10 years. Which means that my 9-year-old hound mix, Rowdy, is truly living his best life, as official house recipe taster and product tester. Like many adoring pet parents, we take him everywhere we go, which increases the importance of having portable food and water bowls that suit every situation.
The Tests
We first analyzed objective characteristics like the amount of spillage created, portability, ease of cleaning, how quickly the bowls dried, and how likely they were to get damaged by extended rough use. We filled them with water and nudged them with our foot, tried to place each bowl inside almost full backpacks (or attached them by carabiners to the outside, to determine how bulky they were and the amount of weight they added), dropped the empty bowls from about waist height, to see how sturdy they were, and washed them by hand, then timed how long they took to dry (we also made note of any bowls that were dishwasher safe). We then took stock of subjective characteristics, such as ease of storage, quality of build, the usefulness of special features, and overall experience using the bowls.
What to Look for When Buying Travel Dog Bowls
Since travel bowls are made for use on the go (often during restrictive activities such as hiking, camping or car riding), portability is of utmost importance. Bowls should be light enough to carry—either easy to stash inside or be clipped onto the outside—preferably collapsible, and can be stored in small spaces. Since these bowls will frequently be used when on rough, dirty terrain, such as on trails or in the woods, they should be made of easy to clean and quick drying materials, that don't hold onto odors/bacteria, and are sturdy enough to sit on rocky, grassy surfaces (or on a hotel room rug) without tipping over. Certain bowls are also best for a specific type of travel—small, collapsible vessels made of silicone or cloth are ideal for hiking, bowls with long-term food storing options are best for camping, and bowls with non-spill features are especially equipped for planes, trains, and automobiles.
---
Other Travel Dog Bowls We Tested
More Articles You Might Enjoy