Our recent holiday stay in the Texas hill country during Thanksgiving was really enjoyable because of this luxury airbnb rental. We got to enjoy the amenities and entertain our family in this beautiful space.
If you enjoyed my previous post about our Oregon Airbnb rental experience, then you will love this one too.
Texas Hill Country Airbnb
We recently spent Thanksgiving at this property, as we were trying to be closer to my MIL who is not able to travel much anymore. As it happened, she had a setback, a seizure, and was hospitalized the week before TG, so it was good we were already headed that way. She had not improved enough so that she could join us for dinner as we had planned, but we visited her at the rehab place.
My daughter joined us from LA, along with my niece, who now lives in Austin and my SIL and BIL, who also live nearby. It was a nice holiday made better by this lovely rental property.
The house had two luxury bedrooms and a big space for entertaining. I shared some of their promotional images in a previous blogpost, but today I'm sharing some detail shots of our experience there.
We arrived late Tuesday evening, so it was dark, but all the beautiful landscape lighting was on and it was so inviting. The interior was lit up too and was so welcoming!
The place looked so inviting as we drove up. I loved seeing into the bardominium from outside.
I'm always a bit nervous and so relieved when it actually does look like the photos. This one was even better in person!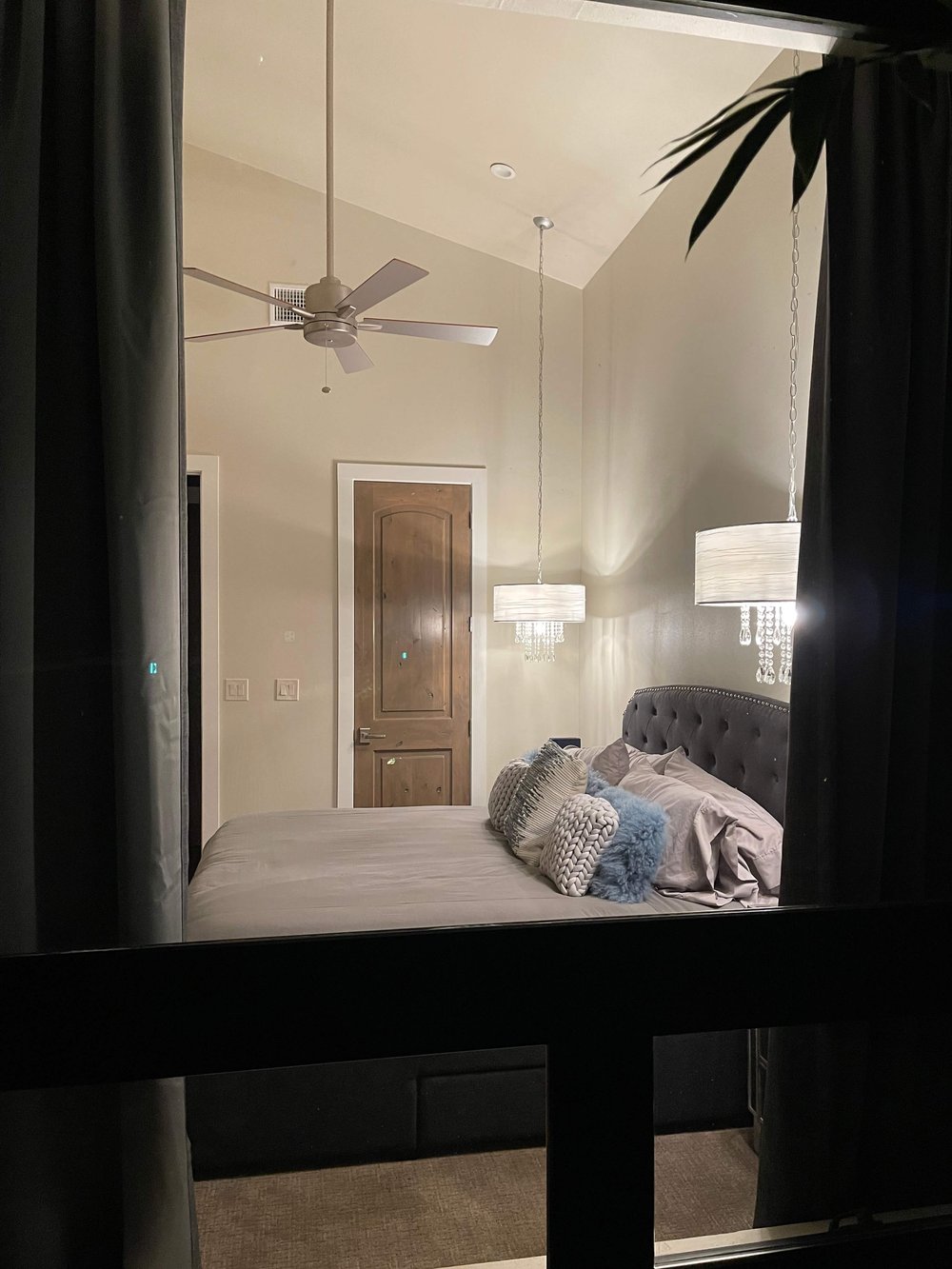 I got up early the next morning so I could take some photos before we messed up the kitchen, prepping for Thanksgiving dinner. :-)
I had corresponded with the owner about the cooking situation and knew they could accommodate our cooking needs, but we still wanted to get things done the day before mostly, so we could relax more on TG day.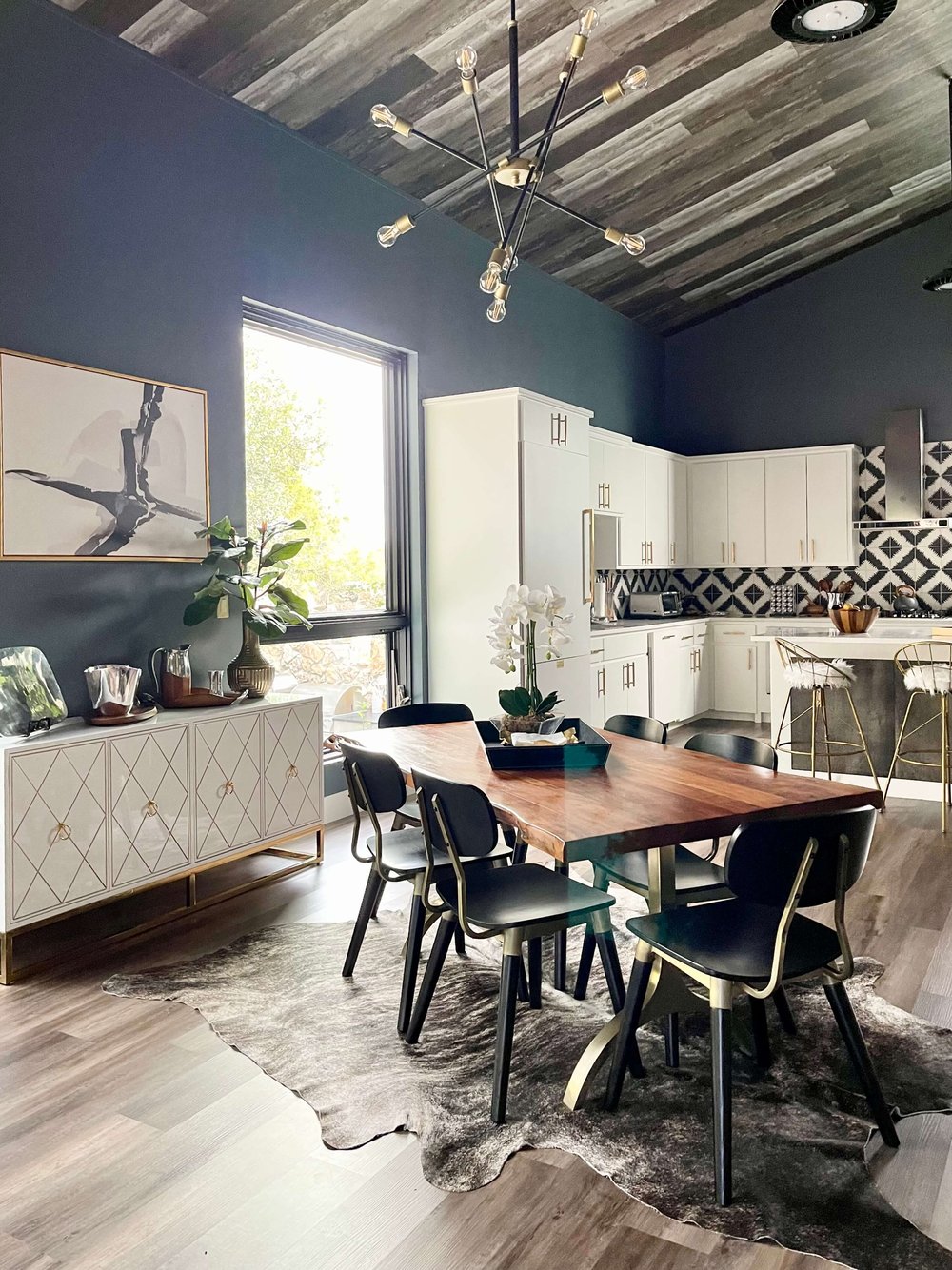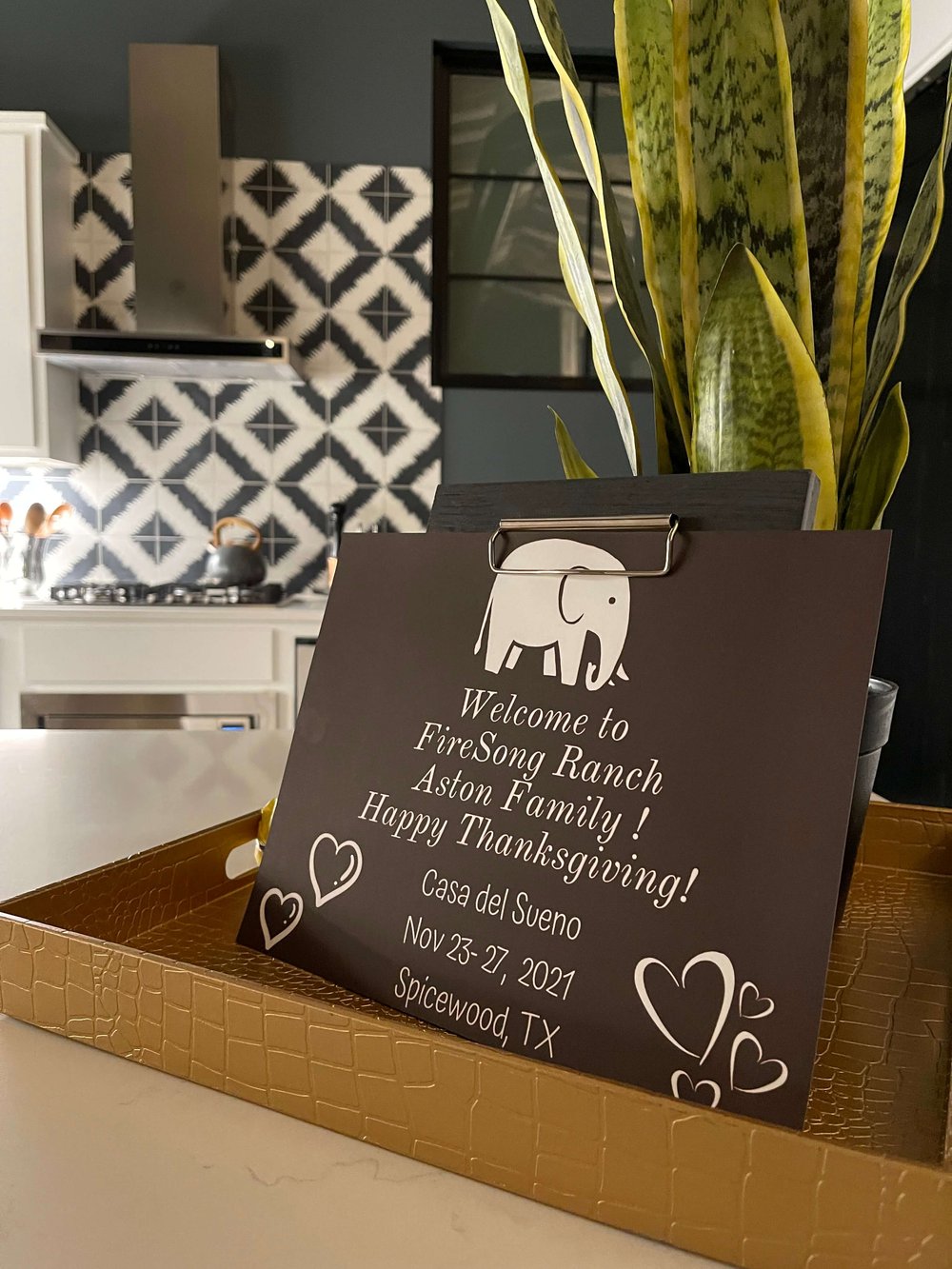 Loved that drying rack there on the sink. After using it here, my daughter got one for her apartment kitchen.

They had plenty of cookware, dishes and even some pantry essentials that came in handy. A good set of knives and many utensils also helped in our food prep are so nice to have in a rental property. We didn't want for anything here.
The refrigerator was stocked with filtered water, fresh eggs, butter and some sweet cream for coffee. That was so nice, especially since we came in late the night before. (The iced coffee and wine were ours! :-)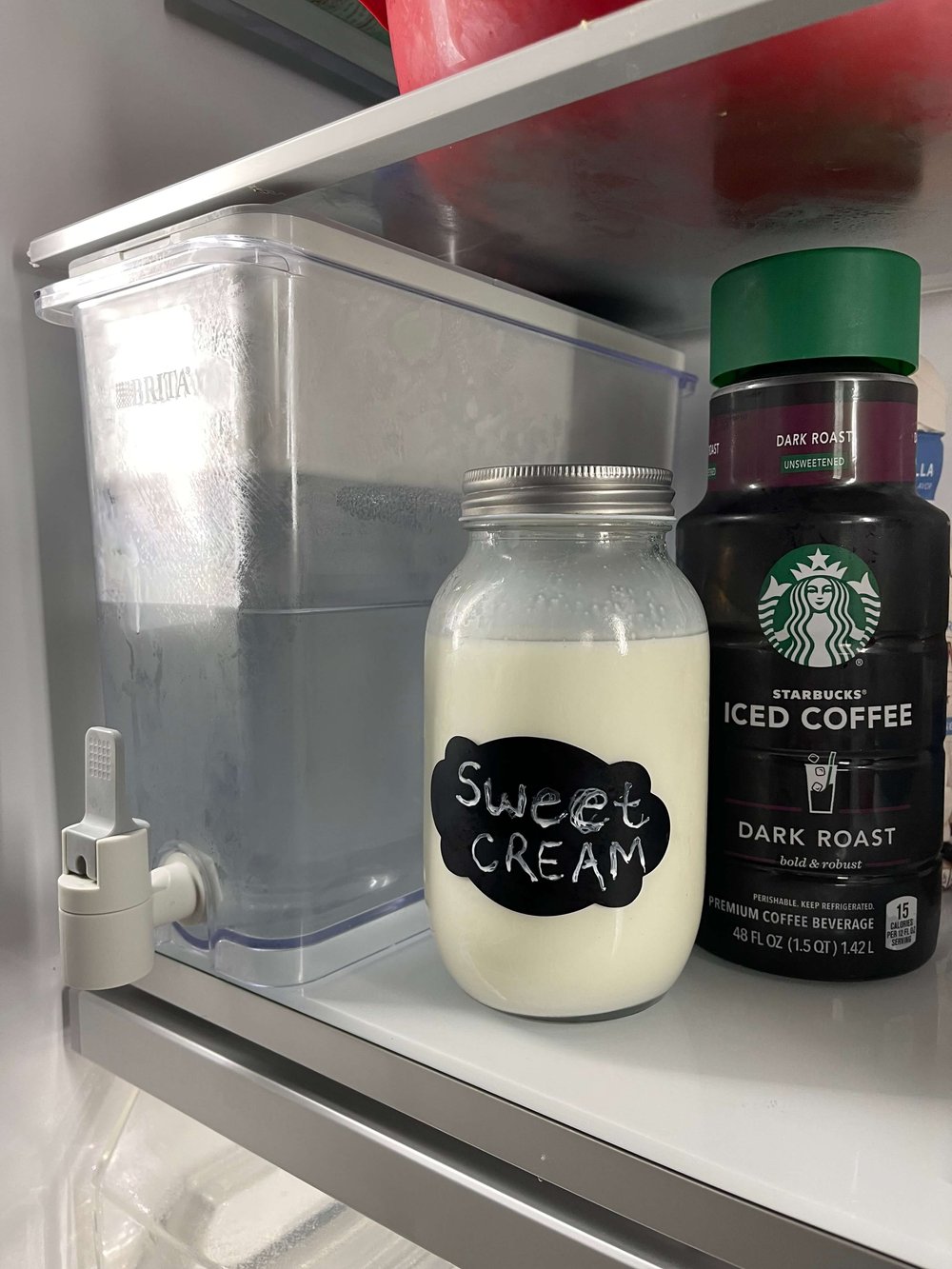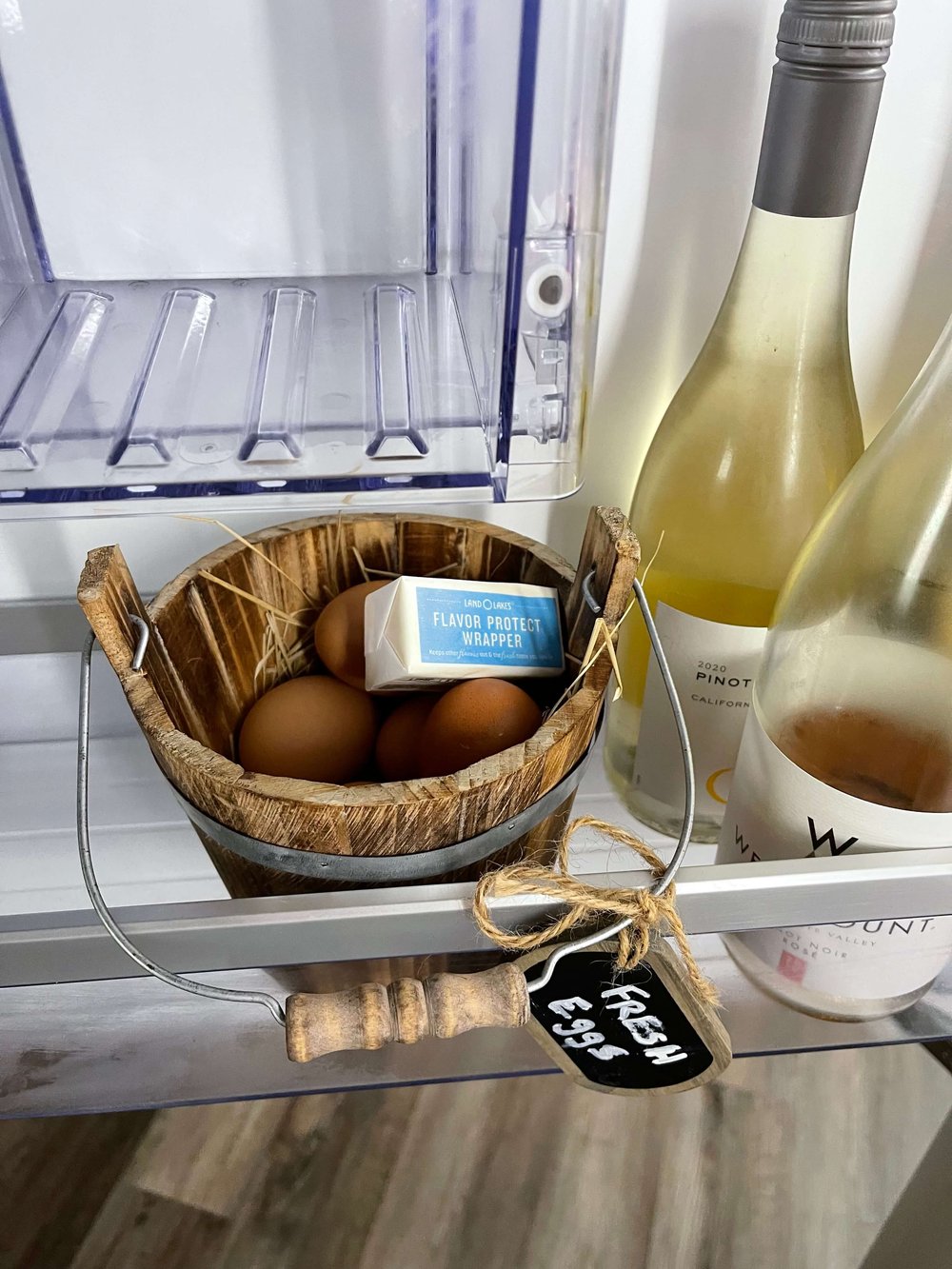 Rustic Glam Style in this Texas Hill Country Airbnb
The furnishings were rustic with a touch of glam. The owner definitely has a glam side to her decor style, as evident with the gold/brassy finishes and the bit of gloss and sparkle here and there.
The live edge table was a nice touch in this open barndominium. I loved the dark paint color and high, open ceiling too. The windows looked out to that stunning patio, perfect for entertaining and outdoor living.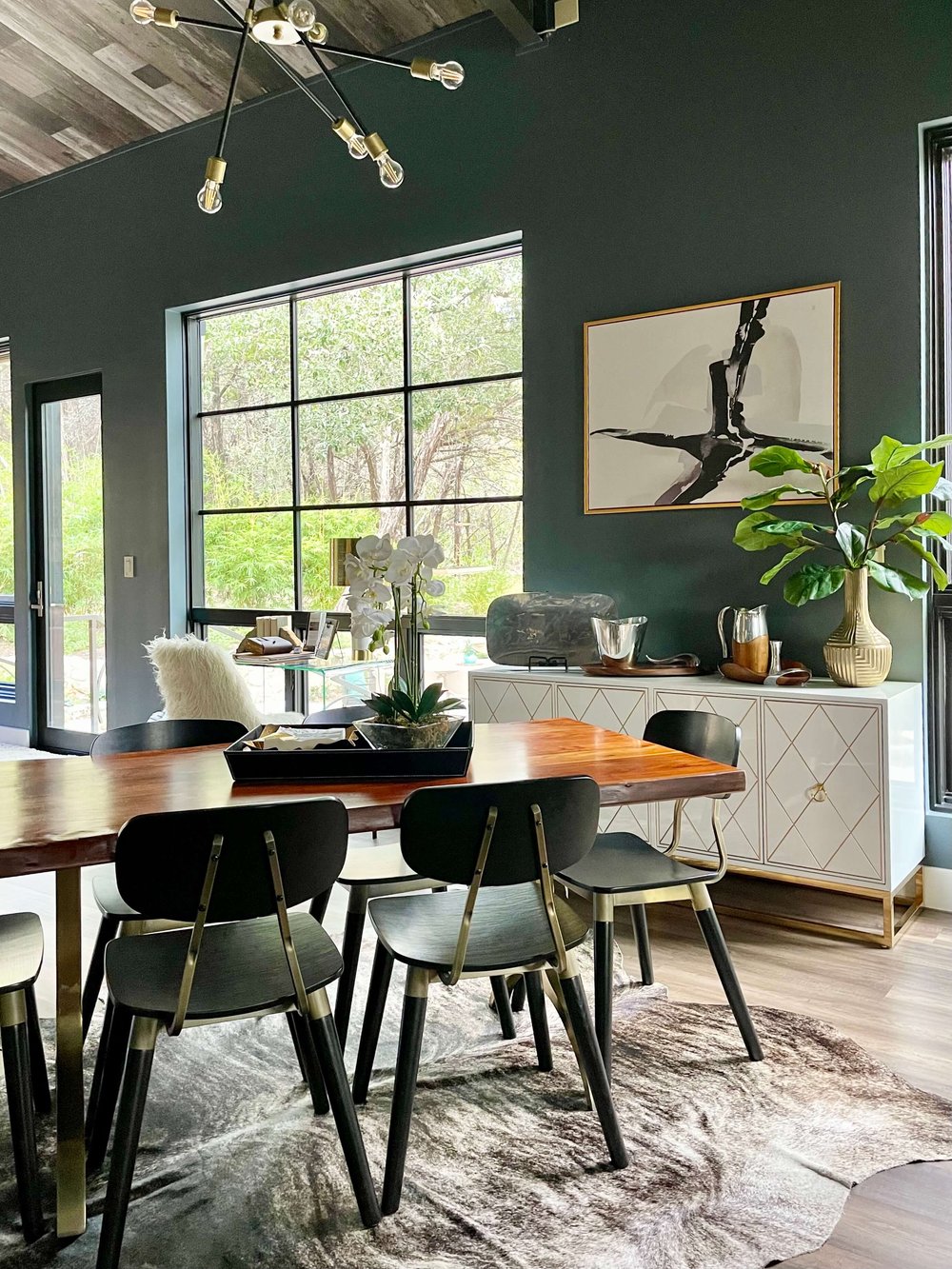 Airbnb amenties in the bathrooms
The two bathrooms were beautifully done, with all amenities necessary to make our stay comfortable. I really like the look of that large format tile on the wall in the bathroom. Much like in the Oregon rental, this tile is great for maintenance and is a perfect rustic look feature.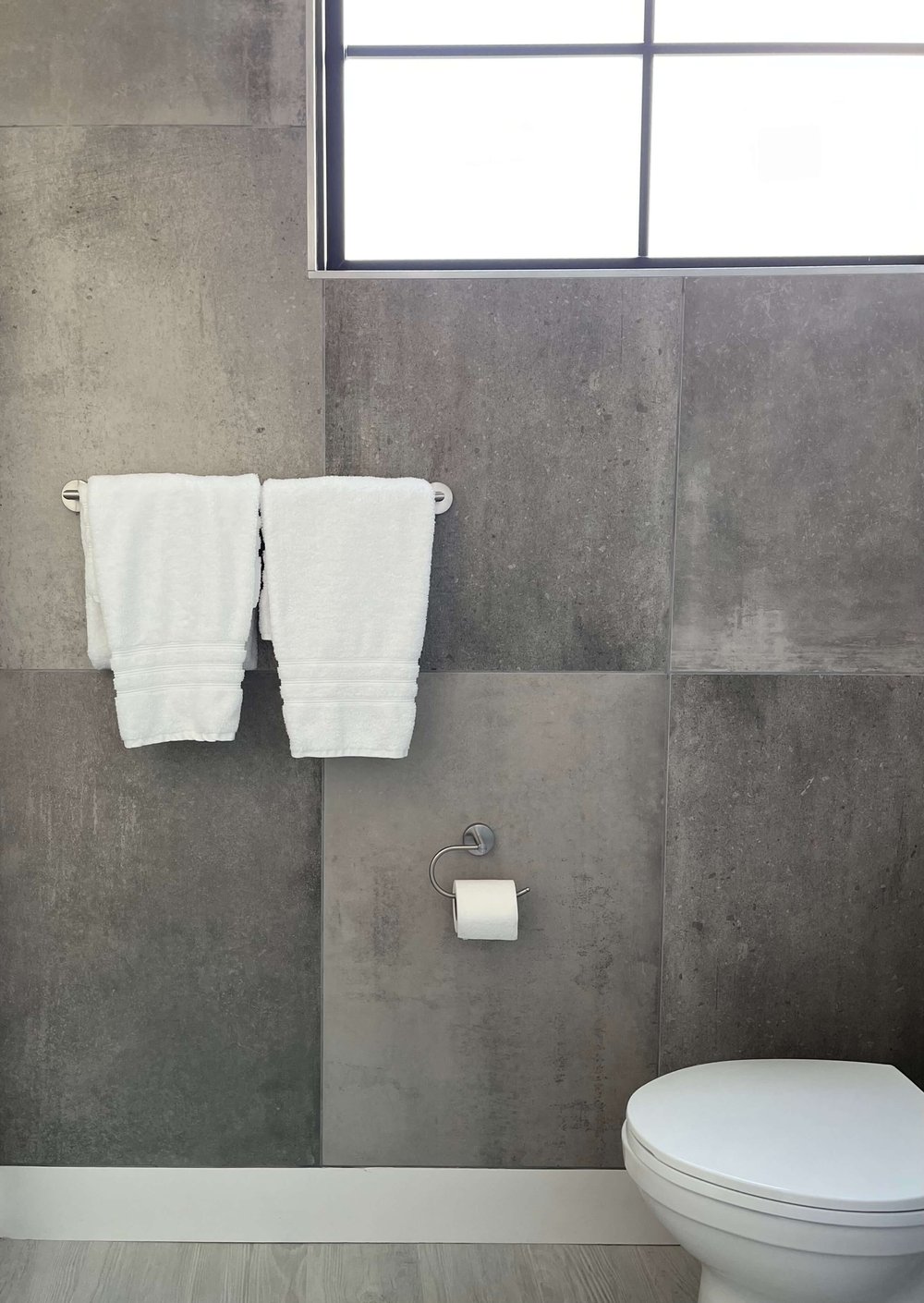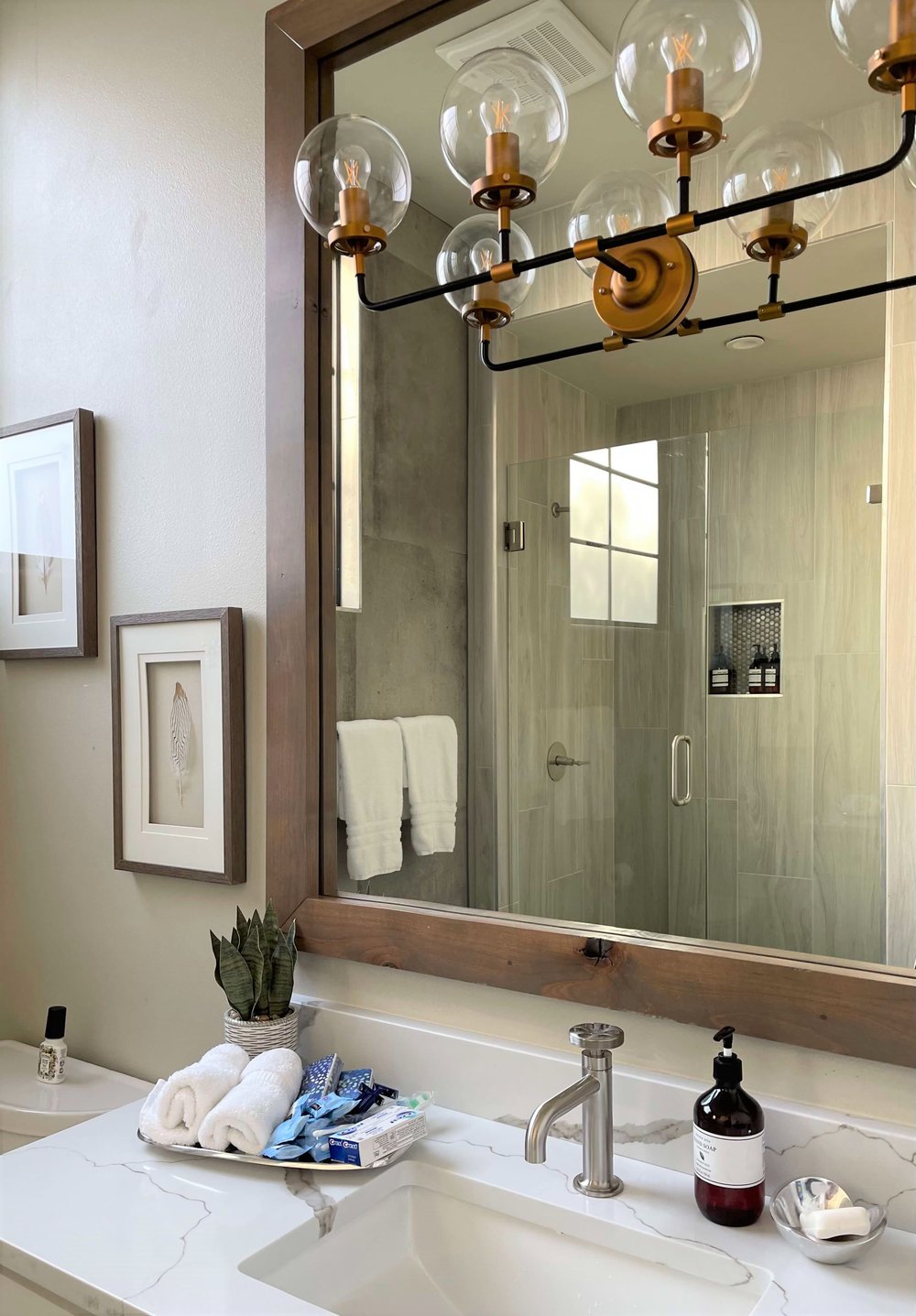 Texas Outdoor living at its finest
While the interiors were lovely and so thoughtfully put together, I have to say the outdoor patio was the crown jewel of this place. I had my coffee out here in the morning and the birds were singing and a breeze blowing softly. It was divine!
The real centerpiece feature was this sprawling live oak that felt like sculpture in the garden.
The well equipped outdoor kitchen even had a small pizza oven. The soapstone counters were gorgeous.
Rent this Texas hill country Airbnb
If you are heading to the Texas hill country and want to experience a luxury home stay where you can relax and enjoy all these amenities, I recommend you check it out. Here's their Airbnb listing.
The owners have two other rentals on the property, a casita and a safari style luxury tent! I'll be sharing pics of that soon, here on my blog.
I'll just leave you here with a few more pics from the area, to whet your appetite for a visit! Longhorn cattle abound along with plenty of wineries, breweries and distilleries. Lake activities are fun there too, my husband went fishing. :-)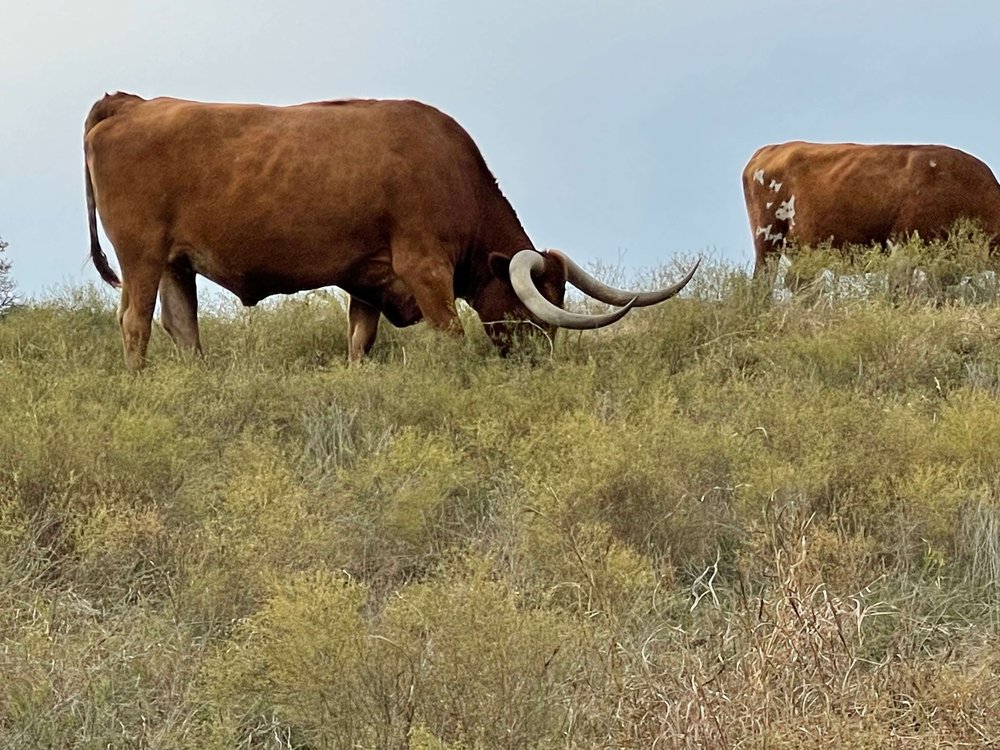 See more vacation rental properties at these links below.
Do you have a luxury vacation rental you'd like to see featured on my blog? Let's connect!