Gluten free oat bread is a delicious and nutritious alternative to conventional wheat bread. This hearty quick bread has a fluffy, tender texture and satisfying flavor that's great for breakfast, brunch, or a snack. Plus, this gluten free bread is easy to make, and it's versatile enough that you can tweak it to be dairy free, too.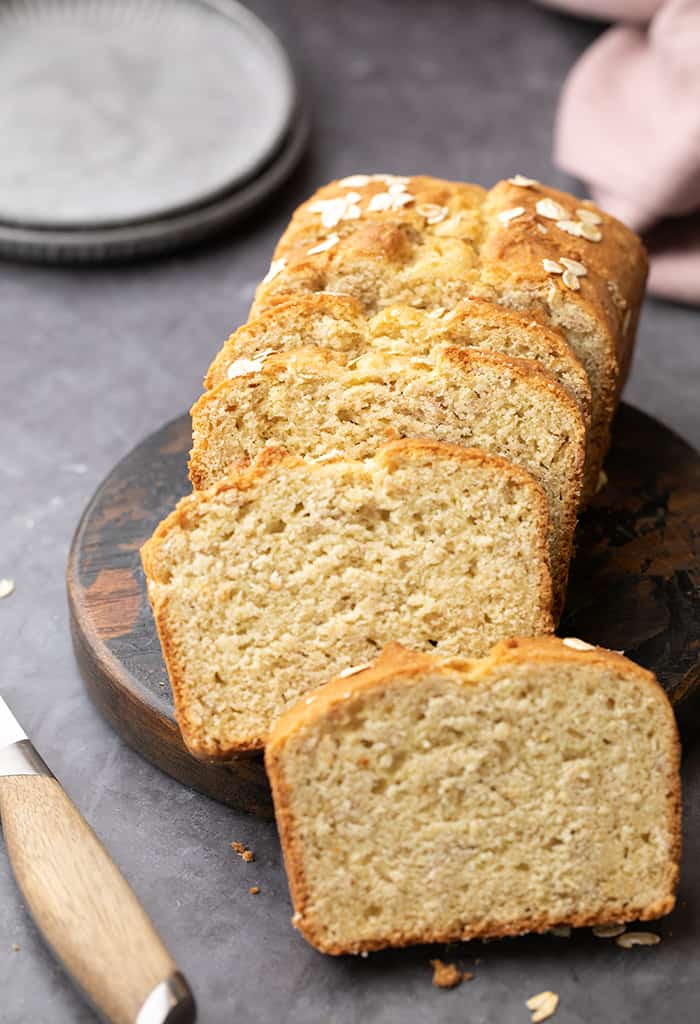 What's special about this gluten free oat bread recipe?
This gluten free oat bread recipe is made with simple ingredients that you likely already have in your pantry. It's also low-allergen and can easily be made dairy free as well.
The combination of all-purpose gluten free flour blend and certified gluten free oat flour gives the bread a unique texture that is both light and fluffy but still hearty enough to keep you satisfied between meals.
And, it's a quick bread, so there's no yeast. Instead, you make this gluten free bread similarly to making muffins. The rise comes from eggs, baking soda, and baking powder, instead.
But, like traditional bread, you bake these quick breads in a loaf pan. And you'll slice them in lovely thick slabs to serve with plenty of butter and your favorite jam. Yum!
Just remember that it's not ideal for sandwiches, as it's a tender quick bread. If you want a sandwich loaf, I strongly recommend my gluten free sandwich bread recipe. It's the most popular of all my gluten free bread recipes for those looking for something as close as possible to a conventional loaf.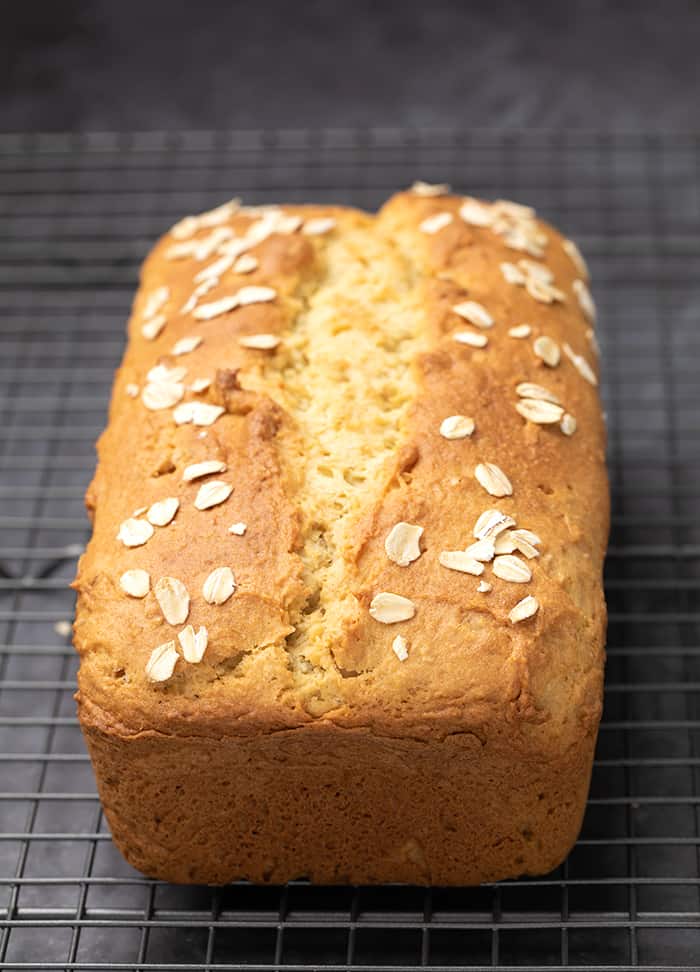 Tips for making gluten free oat bread perfect every time
Making gluten free oat bread doesn't have to be intimidating. And my gluten free quick bread is a nice, simple recipe, so it turns out well, even if you're a beginner. Here are some tips for getting the perfect loaf every time:
Save money and make your own gf oat flour
Making your own oat flour at home is easy and cost effective! Certified gluten free oat flour is unnecessarily expensive. I refuse to buy it when it's so simple to make, particularly for a recipe like this where you don't need super-finely ground oat flour.
Simply grind old fashioned gluten free rolled oats in a food processor until they reach a fine consistency. You can, of course, buy certified gluten free oat flour if you don't want to make your own.
And do remember to only use certified gluten free oats if you need to eat gluten free due to the high risk of cross contamination.
RELATED ARTICLE: How to Make Oat Flour and Quick Oats
Slash your quick bread down the middle for an even split
Before baking, use a knife or a small, metal offset spatula to slash down the middle of the loaf while it's sitting in the bread pan. This will help ensure an even split as the loaf rises during the bake. It's not essential – your loaf will still split during the rise, it just won't look quite as nice, neat, and even.
Don't forget to turn down the oven
Although this gluten free bread is fairly forgiving and is not prone to overbaking on the bottom, unlike other quick breads, you still want to avoid having the oven set too high for too long.
The recipe calls for the bread to bake at 375°F for 10 minutes to encourage the loaf to rise fully, much like we do with our gluten free applesauce muffins. Then, for the remaining 45 to 50 minutes, you need to drop the temperature to 350°F to avoid overbaking and excessively drying out your loaf. Remember, it's already pretty tender, so drying it out with overbaking makes it even more fragile and ruins the taste and texture, too.
So don't forget to turn down the oven after 10 minutes for a nice, even bake.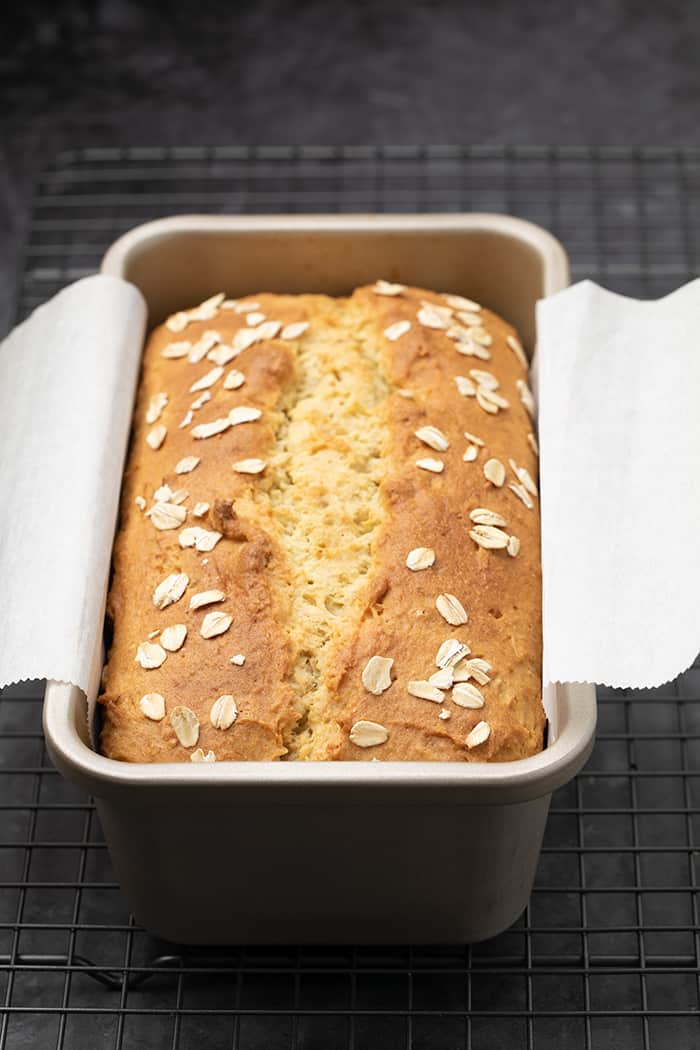 Choosing the best pan for oat bread
For the best results with this oat flour bread, use a slightly smaller 8.5 x 4.5-inch cast aluminum bread pan. A standard 9 x 5-inch bread pan works too, but the loaf won't be quite as tall.
Cast iron pans tend to get too hot for long bakes like this one, so you'd end up with burned or overbaked sides and bottom. And I don't recommend a silicone bread pan either, since they don't conduct heat very well, so your baked goods just don't tend to brown in the oven.
What gluten free flour is best for oat bread?
For this, as with many other gluten free recipes, I recommend using an all-purpose gluten free flour blend such as Better Batter's classic blend or Cup4Cup's all purpose gluten free flour blend. I used Better Batter, here. But you can also make your own mock Better Batter classic blend easily.
There are a few other options, too, but I'd avoid anything with a grainy texture or an inconsistent blend. I don't use King Arthur or Bob's Red Mill, for example, but please see our all purpose gluten free flour blend page here on the blog for full and complete information on what blends to use, which ones to avoid.
How to store gluten free oat bread
This delicious bread stores well in in an airtight container on the countertop for a few days. It freezes very well, too.
Can I store this low-allergen oat bread in the refrigerator?
You can, but I find that the refrigerator tends to dry out baked goods. If you can't leave it on the counter or freeze it, try wrapping each slice tightly in plastic wrap or store in an airtight container in the refrigerator. If it has dried out at all, try sprinkling each slice with a few drops of water, and toasting it before serving.
Can I freeze this gluten free oat bread?
Yes, this gf bread freezes well. Wrap each slice tightly in plastic wrap then place inside a freezer bag or airtight container before freezing for up to 3 months. Thaw overnight on the kitchen counter before serving or reheating, or defrost once slice at a time (if that's how you froze it) in the toaster oven or microwave for a few moments.
What to serve with oat bread?
Gluten free oat bread pairs perfectly with nut butters for an even more filling snack. It works as a sweet treat, too, with spreads like jam or honey butter. It's only lightly sweet, so it makes great toast topped with avocado slices and a sprinkling of salt.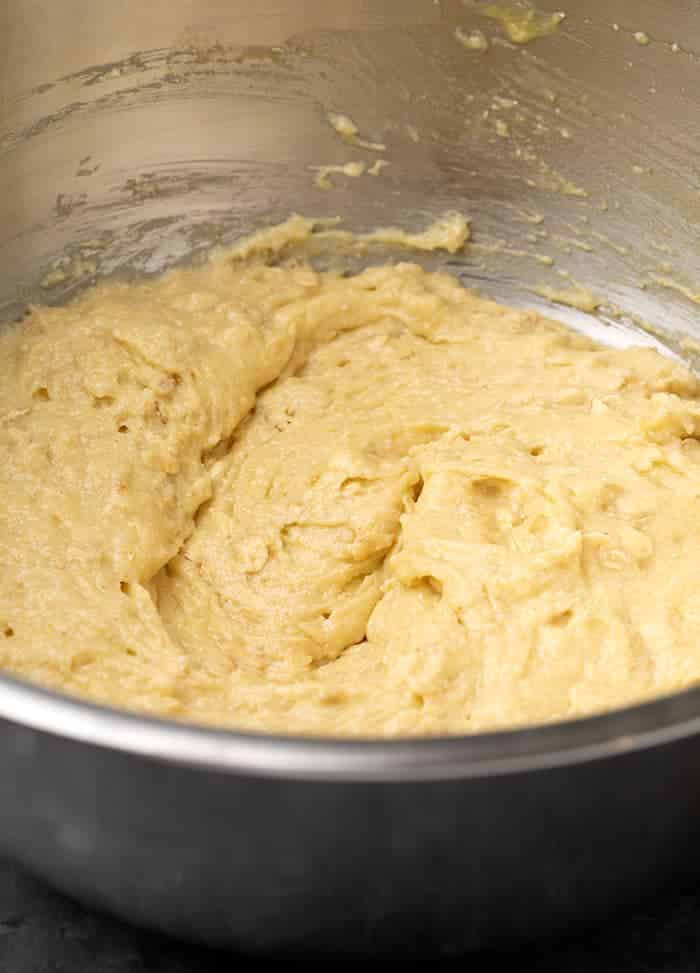 Are oats safe on a gluten free diet?
Oats are naturally gluten free but may be contaminated with gluten during processing unless they are labeled gluten free. Be sure to check labels carefully when purchasing oats – look for "certified gluten free" on packaging, and oats that have been grown and manufactured according to the "purity protocol."
While some people with celiac disease or gluten sensitivity are also sensitive to the protein in oats, for the majority of people, certified gluten free oats are a great addition to gluten free baking and to a gluten free diet in general.
Can I make this oat bread dairy free?
Yes. Simply substitute vegan butter instead of regular melted butter. I like Miyoko's Kitchen and Melt brands best.
You'll also have to switch out the buttermilk for a dairy free substitute. As a general rule, for every cup of buttermilk in a recipe, replace it with 1/2 cup of unsweetened dairy free yogurt and 1/4 cup of unsweetened non dairy milk, like almond milk or oat milk.
If you want to make it vegan, you'll also need to substitute the eggs with chia eggs. To make a single chia egg, place 1 tablespoon ground white chia seeds in a small bowl with 1 tablespoon lukewarm water, mix, and allow to gel. Note that I haven't tried to make a vegan version of this, so I don't know how well it'll turn out. If you try it, let me know how well it works!
Can I make this gf oat bread without oats?
Believe it or not, you might be able to make this oat bread without oats at all. If you'd like that hearty taste, but you're sensitive to oats and can't eat them, try using some of our oat substitution suggestions. Here, for the oat flour, I'd try quinoa flakes; for the whole oats, try beaten rice, or even an equal amount, by weight, chopped tender raw nuts like pecans or walnuts.
Can I use a bread machine to make gluten free oat bread?
No, I don't recommend it. I never recommend making gluten free yeast bread recipes in a bread machine, even my beautiful sandwich bread.
Gluten free breads behave differently, even the dough-style breads. They require more consistency than a bread maker can provide.
And this particular oat bread recipe is a quick bread, so it's a batter-style bread that behaves more like a muffin batter than a conventional bread dough, so it just wouldn't work in a bread machine.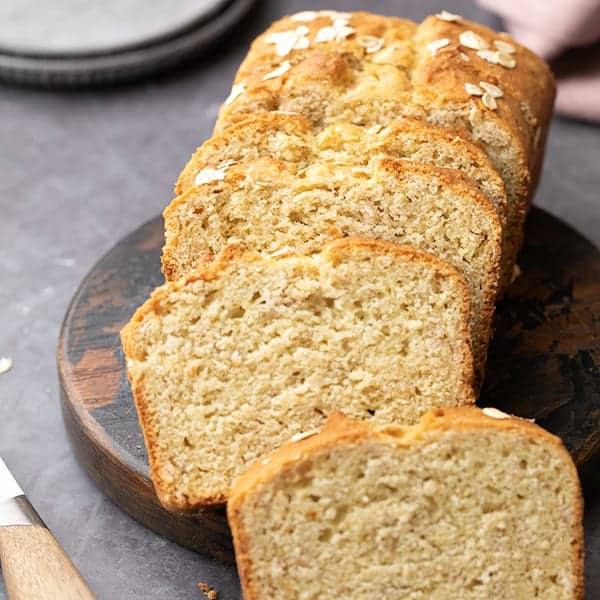 Print
Hearty, Fluffy Gluten Free Oat Bread Recipe
Make this easy gluten free oat bread for breakfast, brunch, or snack time. Enjoy this hearty, fluffy gluten free quick bread any time.
Course
Breakfast, Quick bread, Snack
Keyword
gluten free oat bread
Servings
1
standard loaf quick bread
Ingredients
1 ⅜

cups

all purpose gluten free flour blend

(I used Better Batter; please click thru for full info on appropriate blends)

¾

teaspoon

xanthan gum

(omit if your blend already contains it)

⅜

cup

cornstarch

⅝

cup

certified gluten free oat flour

(See Recipe Notes)

2

teaspoons

baking powder

¾

teaspoon

baking soda

½

teaspoon

kosher salt

¾

cup

granulated sugar

1

cup

buttermilk

at room temperature

6

tablespoons

unsalted butter

melted and cooled

2

eggs

at room temperature, beaten
Instructions
Preheat your oven to 375°F. Grease well an 8.5-inch x 4.5-inch loaf pan, then line it with some parchment paper, hanging off the sides. You can also use a standard 9-inch by 5-inch loaf pan. Set it aside.

In a large bowl, place the flour blend, xanthan gum, cornstarch, oat flour, baking powder, baking soda, salt and sugar, and whisk to combine well.

Add almost all the rolled oats, reserving about 1 tablespoon to sprinkle on top of the raw batter in the loaf pan. Whisk to evenly distribute the oats in the dry ingredients.

Create a well in the center of the dry ingredients, and add the buttermilk, butter, and eggs.

Mix to combine fully, but do not overmix. The batter will be thick but should not be stiff.

Scrape the batter into the prepared baking pan and, with a wet spatula, smooth the top.

For a more uniform split down the center as the bread rises in the oven, slash down the center of the loaf with a knife or small metal offset spatula, about 1/4-inch deep.

Sprinkle the reserved rolled oats evenly on top of the batter in the loaf pan. Bang the pan on the counter a couple times to help the loose oats adhere to the batter.

Place the pan in the center of the preheated oven and bake for 10 minutes.

Reduce the oven temperature to 350°F, and continue to bake for another 45 to 50 minutes, or until the top of the loaf springs back when pressed lightly and a toothpick inserted in the center comes out with, at most, a few moist crumbs attached.

Remove from the oven and allow to cool in the loaf pan for 15 minutes before transferring to a wire rack to cool completely. Slice once cool and serve.
Notes
You don't have to buy oat flour, especially since the oat flour you use in this bread doesn't need to be extra finely ground. Just grind your own from the same amount of old fashioned rolled oats as the recipe calls for oat flour, measured by weight.
The post Hearty, Fluffy Gluten Free Oat Bread Recipe appeared first on Gluten Free on a Shoestring.