"Wheaty" tasting, this gluten free brown bread recipe is sure to be a family favorite. With added whole grains and lots of depth of flavor, this versatile, wheatless loaf of gf whole grain bread keeps you full and satisfied!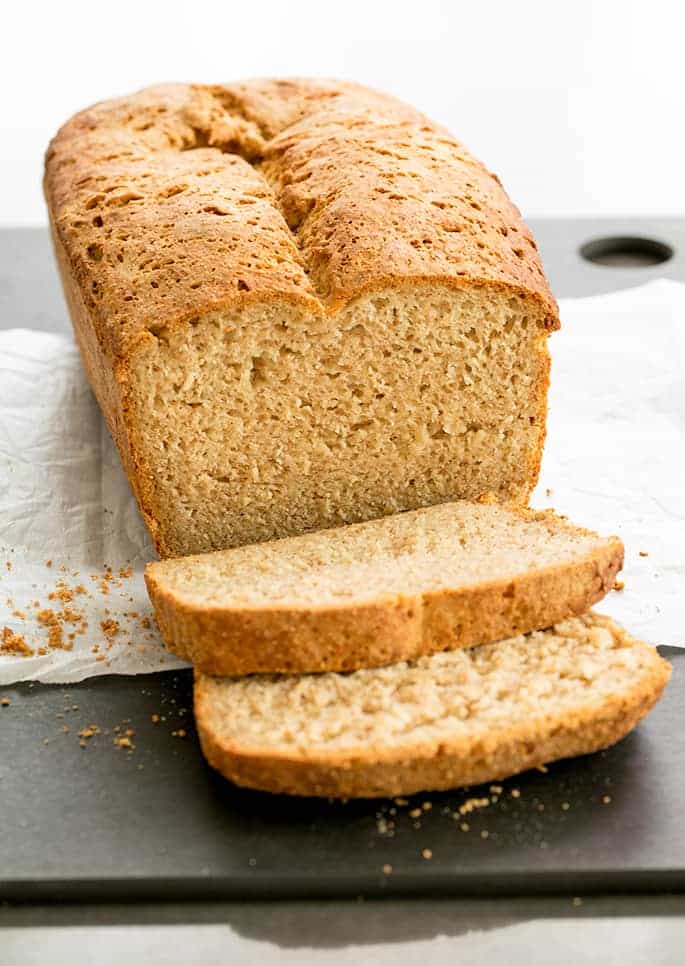 Why this is the best gluten free brown bread recipe
This good, hearty gf whole grain bread has a thick but tender, bakery-style crust that will satisfy that craving for the wheat bread you're missing. If you've ever wondered if you can "add some whole grains" to our other gluten free bread recipes, this is your moment!
Hearty and wheaty-tasting, with just the right amount whole grain teff and oats and a touch of molasses, this gf bread recipe was developed to incorporate those whole grains. Just like good gluten free baking requires good gluten free recipes, a whole grain gluten free bread comes only from a recipe designed for it. This is that recipe.
This recipe will satisfy that craving for a thick slice of whole wheat bread. Like way back when the waitress used to ask what sort of bread you'd like (white? wheat? sourdough?) and you'd order wheat.
It isn't designed to satisfy your nutritional needs for the day, though! I really prefer to do some things very well (a great-tasting, beautiful loaf of bread) rather than try to do everything and do most of it poorly.
Batter-Style Gluten Free Breads
When my son first started eating gluten free in 2004, we mail-ordered gluten free bread from Canada. That wasn't because it was so good we couldn't help ourselves. It was just all there was. I didn't know how to make gluten free bread.
Five years later, in 2009, I stumbled upon a recipe that was known as "Tom's Bread" on the Internet. I think I first found it in an online chat room, although I simply can't recall where that would have been. That was back in the days when the "gluten free listserv" was the best (and nearly only) source of gluten free product information out there.
Tom's Bread is a batter-style bread that I believe Tom himself maintains was the product of divine intervention. It relies heavily on garbanzo bean flour. But it also was prescient in its use of equal amounts of cornstarch and tapioca flour.
And Tom's bread was a batter-style gluten free bread. A couple of years later, I would go on to develop the recipe for Gluten Free White Sandwich Bread that was published in my first cookbook.
It relies on a rice flour blend, but it's also a batter-style gluten free bread. That recipe, from the second edition of my very first cookbook is still a family favorite.
These bread doughs are made in a mixer and resemble cookie dough. The dough is very, very wet, and can't be shaped in the way conventional bread doughs are shaped.  Until I wrote my third cookbook, Gluten Free on a Shoestring Bakes Bread, batter-style yeast bread was the only sort of gluten free bread recipe I had ever heard of.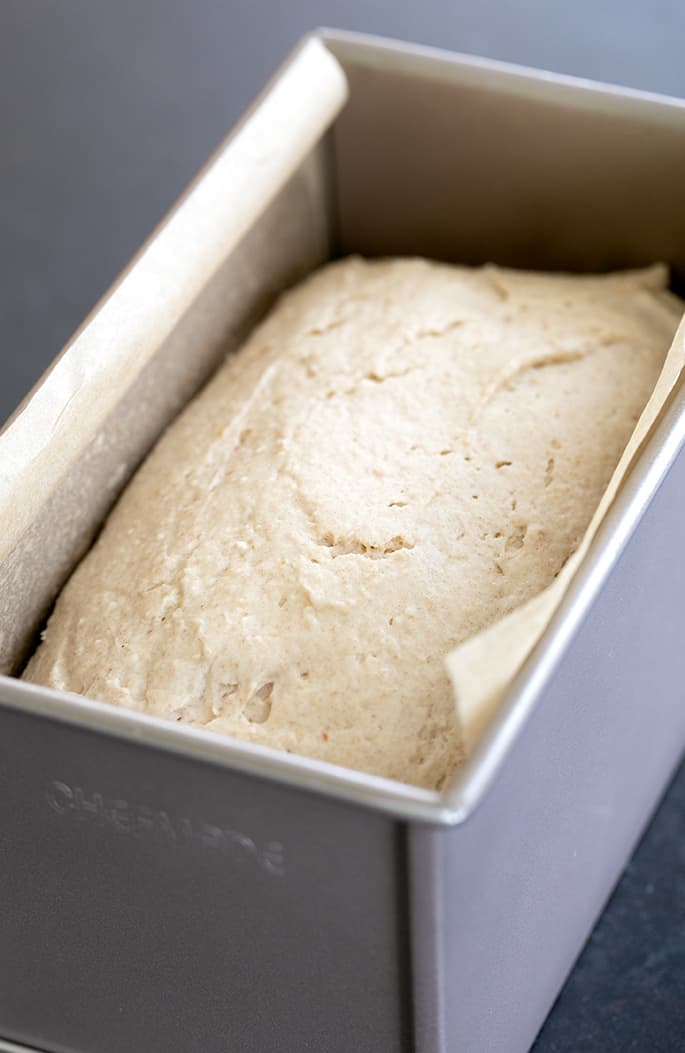 Preparing gluten free brown bread in a bread machine?
Even though I am still asked about my favorite bread machine from time to time, I continue to insist that bread machines are a waste of money. They vary a ton from brand to brand, and one recipe will work well in one machine and not in another. Plus, the machines are crazy expensive and make an odd-shaped loaf.
A great place to begin making gluten free bread
If you're new to making gluten free bread, or to making bread in general, it's best to begin with a batter-style bread like this wheat free but wheaty-tasting brown bread.
Batter-style gluten free bread recipes have only one rise, and they tend to rise quickly because the dough is super wet. High hydration means that yeast grows readily.
In fact, most recipes for gluten free bread that you'll find elsewhere on the Internet (and in cookbooks that aren't, well, mine), are in this style. I hadn't made one of these recipes in years—and then I started working on the second edition of my very first cookbook.
They don't have the yeasty taste that you get from a slow refrigerator rise, and they don't have the same chew. But they make a lovely sandwich. And they're a great starting place if you're hesitant to make yeast bread (gluten free or otherwise).
Tips for baking this gluten free brown bread
This multigrain gluten free bread recipe even has some real depth of flavor because of the addition of oat flour, whole grain teff and molasses. If you're looking for some tips and tricks on baking gluten free bread, have a look at my Top Ten Secrets To Baking The Best Gluten Free Bread.
Here are some more things to keep in mind as you read through this recipe and then begin baking:
Mixing the ingredients for gf brown bread
This recipe, like all of our batter-style gf bread recipes, calls for mixing in a stand mixer with the paddle attachment. If you don't have a stand mixer, I don't recommend a handheld mixer, which just doesn't offer the right style of attachment. Instead, try a food processor fitted with the steel blade.
Choosing the right loaf pan for baking gluten free brown bread
My favorite loaf pans for baking bread, lately, are 1.5 pound Pullman-style loaf pans. You begin baking the bread with the Pullman cover in place to prevent the loaf from rising into a dome, then remove the cover for the remainder of the baking time so the loaf can cook through and brown properly.
Proofing your gluten free whole grain bread dough
Yeast bread will rise at a large temperature range, including anything that might be considered room temperature (from warm to cool room temperature), just more slowly at lower temperatures. In warmer temperatures, this loaf may rise fully in 45 minutes; in cooler, drier temperatures it may take much longer. Please be patient! 
Shaping your gluten free brown bread
Since this is a batter-style yeast bread, you'll transfer the shaggy, wet dough to your prepared loaf pan, and shape and smooth the top with a wet spatula and your moistened fingers much as you would a cake.
Baking your gluten free "whole wheat" bread
This bread bakes at 375°F, a slightly higher temperature than you would bake a cake, to encourage "oven spring," which is the initial rise of yeast bread in the oven, and to help the loaf bake through and brown fully.
Gluten free brown bread — ingredients and substitutions
Except where I've specifically indicated that I've tried the substitution, these pearls are just my best-educated guesses about how to satisfy other dietary needs beyond just being gluten free. My recipes are only reliably gluten free, by design, and not free of everything. So take this information in the spirit in which it's offered—and do your own experimentation!
Dairy-free gluten free brown bread
It's easy to make this recipe dairy free. Just replace the butter in the recipe with either butter-flavored Spectrum nonhydrogenated vegetable shortening or Earth Balance buttery sticks. And use any unflavored, unsweetened nondairy milk (as long as it isn't nonfat). Done!
Egg free, gluten free brown bread
There are two egg whites in this recipe, but I've also successfully made it with one whole egg. That leads me to believe that you could make it with one "chia egg" instead. A chia egg is 1 tablespoon chia flour mixed with 1 tablespoon lukewarm water and allowed to sit until it gels.
Oat free, gluten free brown bread
You can replace the oat flour in this recipe with quinoa flakes or cream of buckwheat. And I now have a full discussion of replacing oats in gluten free baking. Oat-free bakers rejoice!
The best gluten free flours for this gf bread
I always prefer a base of Better Batter classic blend gluten free flour as a base for my gluten free yeast bread. In this recipe, we're adding whole grains with teff (or teff flour) and oat flour. You can try replacing the oat flour with a variety of other whole grain, gluten free flours. Here are a few suggestions:
Buckwheat flour in place of oat flour? Sweet white sorghum?
I think that buckwheat flour would work well in place of oat flour, as would sweet white sorghum flour. Make sure your sorghum flour is fresh, though, as it spoils more quickly than other flours.
Quinoa flour? Brown rice flour?
I wouldn't suggest using quinoa flour in place of oat flour here, as quinoa flour tends to be bitter. Brown rice flour doesn't have the same "chew" as oat flour, so I don't recommend it, either.
Using whole grain teff vs teff flour
This recipe calls for whole grain teff, not teff flour. I have wondered whether it would work with teff flour, though. And whether whole grain teff could be replaced with, say, chia seeds. I bet it could!
Storing gluten free brown bread
Never store gluten free bread in the refrigerator, as it tends to be drying. This bread will stay fresh covered tightly on the kitchen counter at room temperature for a day, but I wouldn't risk more than that. You know what they say about day old bread!
Freezing gluten free brown bread
For longer storage, I recommend slicing this loaf of gf brown bread when fresh, and fully cooled. Then wrap it tightly in freezer-safe wrap and freeze it for up to 2 months—longer if your storage wrap removes all air from contacting the bread.
FAQs
Is whole wheat bread gluten free?
No! Anything with the word "wheat" in the title will contain gluten, one of the 3 main sources of gluten.
Is brown bread gluten free?
Only this recipe for brown bread is gluten free. Other brown breads that aren't specifically developed to be gluten free will contain gluten.
What's different about gluten free brown bread?
This bread has whole grains added to our regular all purpose gluten free flour blend that lend a wheaty chew and a beautiful brown color.
Is this gluten free brown bread recipe healthy?
Since it's enriched with whole grains, this gf bread will keep you fuller, longer than a loaf of gluten free white bread. So in that respect, it's healthier for you!
How can I tell when my gluten free whole grain bread is done baking?
Your bread is done baking when it sounds hollow if you thump it on the side somewhat forcefully with your fingertips, and the internal temperature reads about 190°F on an instant read thermometer.
Why did my whole grain gf bread come out gooey in the middle?
It's underbaked! Many ovens run hot or cold, so you should always gauge oven temperature by virtue of a simple, inexpensive, freestanding oven thermometer that you replace often. If your oven runs cold, it may take an exceedingly long time to bake, and won't bread as well.
Why did my gluten free bread collapse while cooling?
If your oven runs hot, as many do, it will bake the outside too quickly and give the loaf the appearance of being baked through even though the inside doesn't have the structure to support the outside as the bread cools. Always test your bread for doneness as described above before removing it from the oven entirely.
How to make gluten free, whole grain brown bread, step by step
Print
Gluten Free Brown Bread
Enjoy the heartiness of whole wheat bread when you try this gluten free brown bread recipe. This gf whole grain bread is wheaty and delicious, all while being wheatless.
Keyword
gluten free brown rice bread, whole grain gluten free bread
Equipment
Stand mixer with paddle attachment
Ingredients
2 ½

cups

all purpose gluten free flour blend

(I used Better Batter)

1 ¼

teaspoons

xanthan gum

omit if your blend already contains it

3

tablespoons

whole grain teff

whole or ground into a flour

9

tablespoons

certified gluten free oat flour

(I just grind old fashioned gluten free rolled oats into a powder)

¼

teaspoon

cream of tartar

¼

teaspoon

baking soda

2

tablespoons

granulated sugar

1

tablespoon

instant yeast

(See Recipe Notes)

1 ½

teaspoons

kosher salt

5

tablespoons

unsalted butter

at room temperature

1

teaspoon

apple cider vinegar

1

tablespoon

unsulphured molasses

2

egg whites

at room temperature

1 ½

cups

warm milk

(about 95°F)
Instructions
Grease and line a standard 9-inch x 5-inch loaf pan or a 1 1/2-pound Pullman loaf pan and set it aside.

In the bowl of your stand mixer fitted with the paddle attachment, place the flour, xanthan gum, teff, oat flour, cream of tartar, baking soda, sugar and yeast.

Whisk with a separate handheld whisk to combine well. Add the salt and whisk again to combine.

Add the butter, vinegar, molasses, egg whites and milk, and mix on low speed with the paddle attachment until the dough starts to come together, then mix on high for about 5 minutes.

Transfer the dough to the prepared loaf pan and smooth the top with a wet spatula. Cover the dough with oiled with plastic wrap or the top of the Pullman pan.

Place the covered pan in a warm, draft-free area to rise until the dough is about 150% of its original volume.

When the dough is nearly finished rising, preheat your oven to 375°F.

Remove the plastic wrap and place the loaf pan in the center of the preheated oven. Remove the plastic wrap. If using a Pullman pan, keep the cover in place.

If using a standard loaf pan, bake for about 30 minutes or until the loaf is firm enough to take out of the pan.

If using a Pullman pan, bake for 40 minutes before removing the pan cover.

In both cases, remove the bread from the loaf pan and place it on a rimmed baking sheet. Return the bread on the pan to the oven, and bake for another 15 to 20 minutes, or until the top is nicely browned, and the loaf sounds hollow when tapped.

Remove from the oven, allow to cool on the baking sheet for 10 minutes. Transfer to a wire rack to cool completely before slicing and serving.
Notes
About instant yeast

.
If you'd prefer to use active dry yeast in place of instant yeast, you'll need 25% more, by weight, and to hydrate it before mixing the yeast into the bread mixture.
Here, that would mean 125% of 9 grams of instant yeast, or just over 11 grams active dry yeast. Mix the active dry yeast with a couple tablespoons of the warm milk, and let it activate, then add it with the rest of the milk when the recipe calls for it.
Originally published on the blog in 2012. Recipe tweaked only slightly, most photos new, video new, text mostly new in 2022.
The post Gluten Free Brown Bread —Wheat Free with a Hearty, Wheaty Taste appeared first on Great gluten free recipes for every occasion..