— Recommendations are independently chosen by Reviewed's editors. Purchases you make through our links may earn us a commission.
Sometimes a product comes into our labs that's more or less average. That's not necessarily a bad thing—sometimes you just want something standard at a reasonable value. This is where the GE GDP645SYNFS (available at Home Depot for $529.20) falls: It's a middle-of-the-road dishwasher that's more or less appropriate for its price. While it does a reasonable job cleaning dishes and has some good features like bottle jets, it isn't perfect: your dishes won't be spotless after a wash and it struggles with drying, sometimes causing cycles to take over 100 minutes longer than they would otherwise. While it's not a bad budget option, it also isn't a dishwasher we'd heartily recommend. If you're interested in a better dishwasher around the same price, the LG LDF5545ST is worth a look.
While we wouldn't say the GDP645SYNFS is a bad dishwasher, it has problems common to most lower-priced dishwashers, like issues with redeposit and some seriously long cycle times. While we don't want to be too hard on the GDP645SYNFS—after all, it's about average and has some nice features, like bottle jets—we also think you can do better for your money.
About the GE GDP645SYNFS dishwasher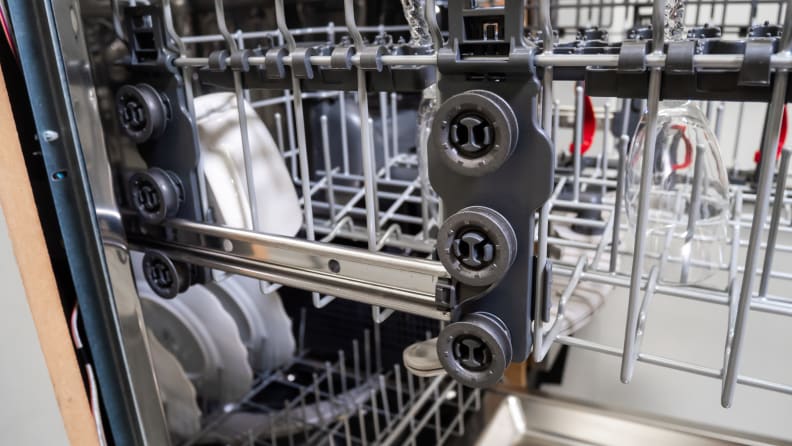 Dimensions: 23.75" x 34" x 24" (WxHxD)
Five wash cycles: AutoSense, Heavy, Normal, Light, and 1 Hour Wash—plus the ability to control the wash zones
Additional features: Adjustable upper rack, steam/sanitize mode, bottle jets
GE GDP645SYNFS user manual and warranty
What we like
The Heavy cycle is fast and efficient
Most of the cycles on the GE GDP645SYNFS hovered around the low end of average, but the Heavy cycle merits some praise. It was the cycle that was able to get dishes the cleanest, and had the least redeposit.
When compared to an average dishwasher Heavy cycle, it cleaned slightly above average finished about 20 minutes faster. It does a decent job for such a relatively short run time.
Bottle jets are perfect for hard-to-clean containers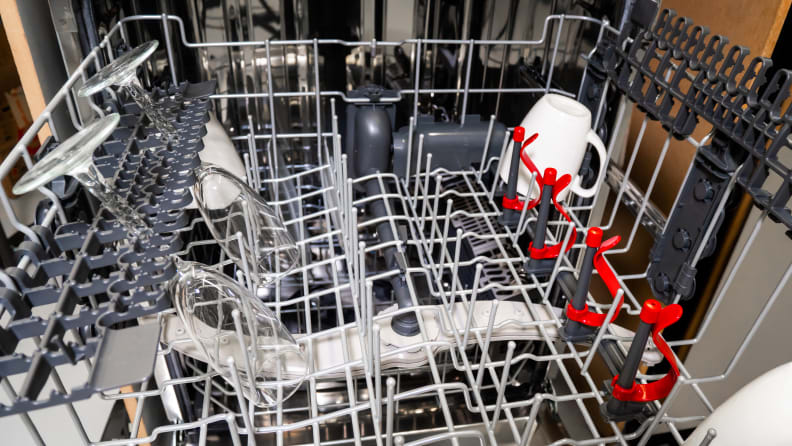 Most dishwashers have difficulty cleaning taller items with narrow openings, like reusable water bottles, which can leave them smelling mildewy after a wash. The spray arms are typically engineered for a shotgun approach, not for spraying a concentrated jet of soapy water into a small opening.
If you regularly use thermoses or bottles, getting a dishwasher with a bottle jet might be a good investment. Dishwashers like the GE GDP645SYNFS have tines with nozzles on them that allow a consistent spray of water directly inside, resulting in a more complete clean. Based on our testing, the bottle jets on the GE GDP645SYNFS seemed to do a good job getting hard-to-clean containers smelling fresh.
What we don't like
Overall, cleaning power is below average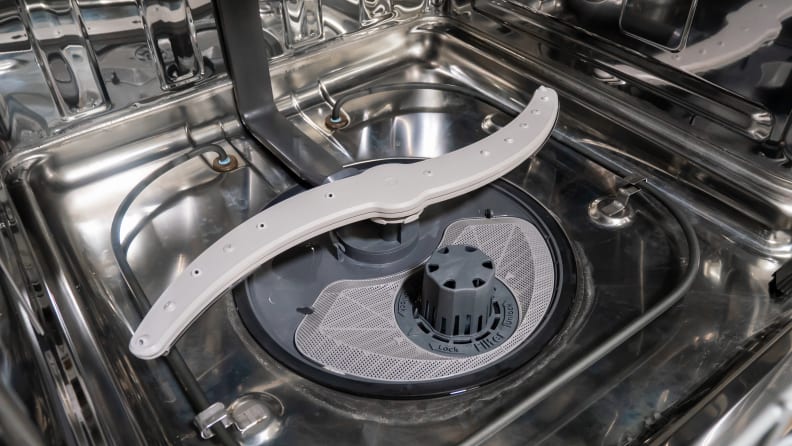 The GE GDP645SYNFS' cleaning power falls somewhere shy of average. While the Normal and Heavy cycles do an alright job at getting dishes clean—resulting in dishes that were 98.1% and 99.6% clean, respectively—on the whole this dishwasher had trouble with redeposit.
Redeposit happens when food waste isn't filtered out of the water properly and winds up getting sprayed back onto the dishes—it's a common problem with cheaper or countertop dishwashers, but typically something more mid-range dishwashers, like the GE GDP645SYNFS, can handle better. If you want to mitigate problems with redeposit, we'd recommend pre-rinsing your dishes.
It has trouble drying dishes
The GE GDP645SYNFS has an optional setting, High-Dry, which isn't enabled by default. With this setting off, dishes end a cycle very wet, so much so that they still needed a towel dry after sitting for a half-hour. Enabling the High-Dry feature results in perfect, 100% dry dishes, but it significantly increases cycle time.
For example, the normal cycle took about 78 minutes to finish with the setting off and 183 minutes to finish with the setting on. The cycle takes over twice as long to produce dry dishes. While getting dishes dry is a problem many dishwashers struggle with (or have invested resources in trying to solve), this is still a very poor performance.
It uses a lot of water
As we test the different wash cycles for their cleaning efficacy, we also measure how much electricity and water the dishwashers use. With that data, we can forecast about how much of each resource the dishwasher will use over a year of regular use. While the GE GDP645SYNFS uses an average amount of electricity, it uses far more than the average 577 gallons of water: We calculate it will churn through water about twice as fast, requiring about 1,126 gallons each year.
This inefficiency is something to keep in mind if you're looking to lower your carbon footprint, but given current water prices, that extra water usage equates to less than a dollar added to your utility bill each year.
What owners are saying
Owner feedback about the GE GDP645SYNFS seems generally positive, though not outstanding—it averages about 4.4 out of 5 stars across major retailers. Owners mostly like its bottle jets and quiet operation. The most common complaints seem to point to issues with redeposit, or dishes otherwise not coming out clean, as well as long cycle times.
Warranty
The GE GDP645SYNFS is covered by a standard one-year limited warranty for parts and labor. This is the baseline warranty typically offered on appliances. In certain circumstances, typically in the case of higher-end dishwashers, certain parts will be guaranteed for longer.
Should you buy the GE GDP645SYNFS?
Maybe. The GE GDP645SYNFS will do in a pinch, and if you can find it on clearance it might even be a decent value. It's just hard to recommend an average dishwasher when there options with better performance, features, or aesthetic flair at a similar price point. It's not bad, but you could do better.
If you're looking for a good, affordable dishwasher, the LG LDF5545ST is less expensive and cleans much better. If price isn't really a consideration and you just want the best dishwasher out there, we can't recommend the Bosch 800 Series SHPM88Z75N highly enough. It has everything you'd want and some features you won't know how you managed to go without.