Who says that Laundry Rooms can't be designed as stylishly as a kitchen?
Most folks Laundry Rooms are an afterthought. A collection of old cabinets and other storage cast-offs. Rooms that, over the years, just sort of happened – and they're not inviting. They shouldn't be the "kitchen wannabe" – so let's design a Laundry area that's as beautiful as a kitchen.
These three homeowners thought that way; combining IKEA SEKTION cabinets with custom touches that create unique storage opportunities, increased efficiency and loads (get it?!) of customized style. They include an IKEA laundry room for Kyle from Litchfield Park, AZ, who wanted a unique space specifically featuring beaded, light-colored doors; an equally impressive and tidy laundry room for Dave from Miami, FL, which serves as an extension of his modern kitchen; and lastly, a dynamic new home laundry room for Priscilla from Los Angeles, CA, complete with ceiling height cabinets.
So although these projects all reflect different customer needs, they do share one important trait: Clever, and affordable, designs that were achieved using IKEA cabinets and customized design solutions.
Let's take a look at how these custom lKEA laundry rooms were achieved!
We'll Design Your Ideal IKEA Laundry Room Easily, Affordably, and Online
Our IKEA Laundry Room Design Package is everything you need to complete your new laundry room with confidence.
GET STARTED TODAY
1. Beaded Beige IKEA Laundry Room
If it weren't for the washer and dryer, you'd think Kyle's laundry room was a kitchenette
"I found IKD online and wanted a unique laundry room that utilized the large amount of space we had. I really liked Semihandmade's (beaded) vertical cabinet lines," he explains.
Kyle worked with IKD designer Richard and combined IKEA SEKTION cabinets with Semihandmade's SSS Beaded/Desert Gray fronts, including upper and tall cabinets, for linen storage, as well as drawer base cabinets.. Specifically, the drawer base cabinets are featured on either side of the large 36″ Apron Front (Blanco IKON) sink and the 42″ high countertop over the front loading washer and dryer.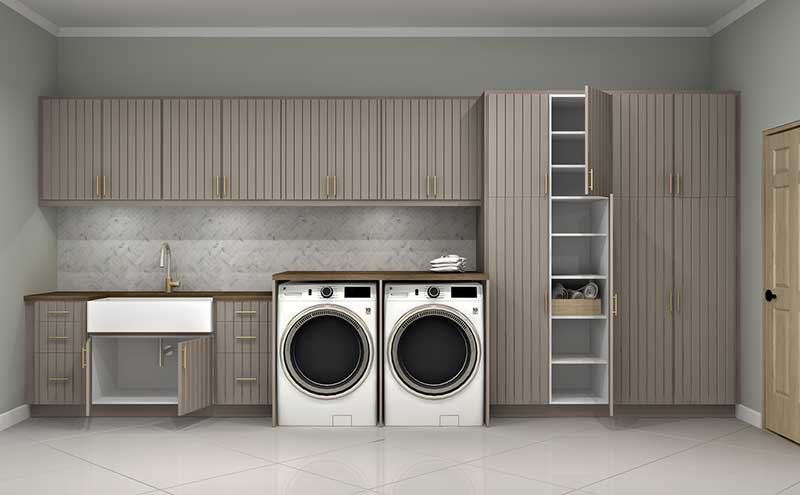 " The sink base cabinet in this IKEA laundry room called for a custom configuration using modified panels to support the sink – with two 18″(W) x 20″(H) doors below. Those same panels, 36″ deep, also surrounded the sides of the washer and dryer. Making laundry prep much easier," Richard explains.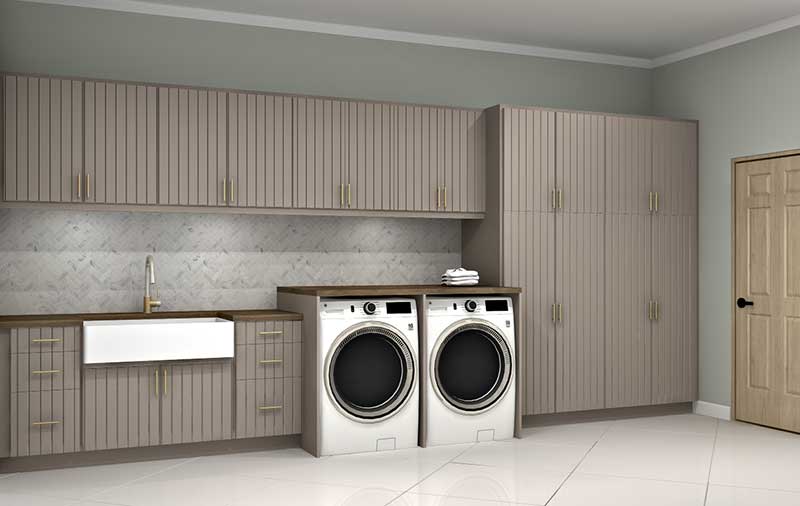 In addition, Kyle liked the contrast of the white washer, dryer and sink against the Desert Gray beaded doors, saying they combined "just right" In total, his laundry room features 11 IKEA cabinets.
Completing the design are some 13 sq. ft. of Silestone Et Calacatta Gold countertops, as well as IKEA AMAXIMERA drawers and an IKEA UTRUSTA Internal Pull Out Cleaning rack.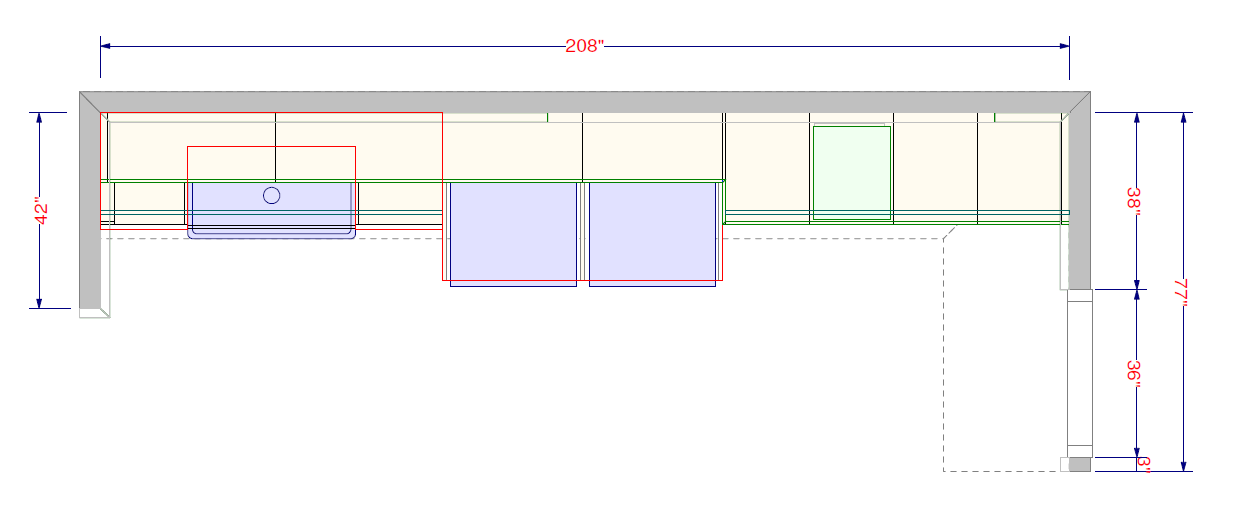 Project Numbers
| | |
| --- | --- |
| $6,590 | Semihandmade's SSS Beaded, Desert Gray |
| $1,849 | Total IKEA Cabinet Cost |
| $219 | Total IKEA Extra Items |
| 34 sq feet | Room Area |
2. Modern IKEA Laundry Room
Semihandmade's Quarterline Shaker Doors create a contemporary space.
"I liked the modern door thin edge look . . feeling that a Traditional Shaker style edge was too wide. I wanted it to have a lot of style and function . . . an extension of the kitchen. So I chose Semihandmade's cabinet fronts to capture the modern design aesthetic I wanted," he says.
Specifically, Dave worked with IKD designer Merari and paired IKEA SEKTION cabinets with Semihandmade's SSS Quarterline Desert Gray for the tall and upper cabinets; as well as base cabinets featuring IKEA MAXIMERA drawers to provide plenty of storage options for clothes, linens and detergents. To break up the look, he also opted for a Semihandmade SSS Quarterline matte white wall cabinet between the two tall cabinets.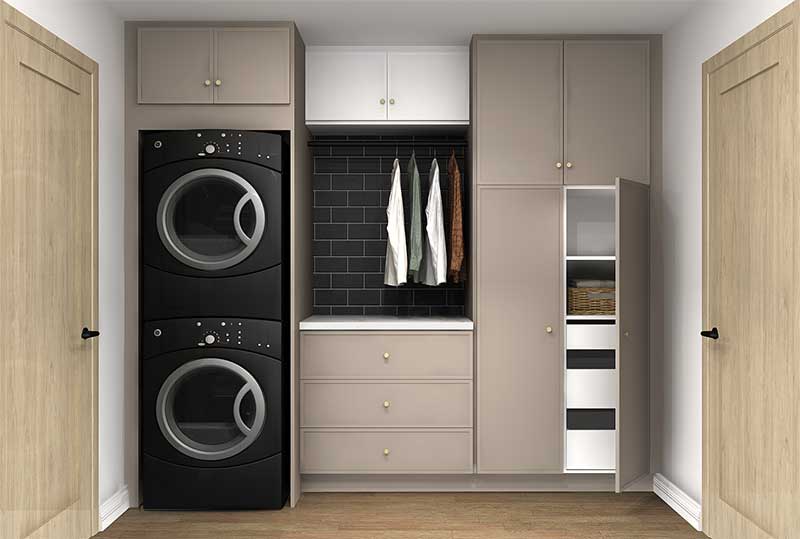 The 64sq. ft. kitchen and laundry room features five IKEA cabinets and five panels. This kept the project well under Dave's budget of $10,000 and accommodated his request for cabinets that reached the 8' ceiling height – as well as tall cabinets used for cleaning supplies and extra kitchen storage.
"This laundry room features a lot of modern style and unique design solutions, such as the graphite-colored washer and dryer, complemented by the black subway tile wall tile, as a focal point at the center of the design. And accents SHM's Desert Gray doors very well," Merari says.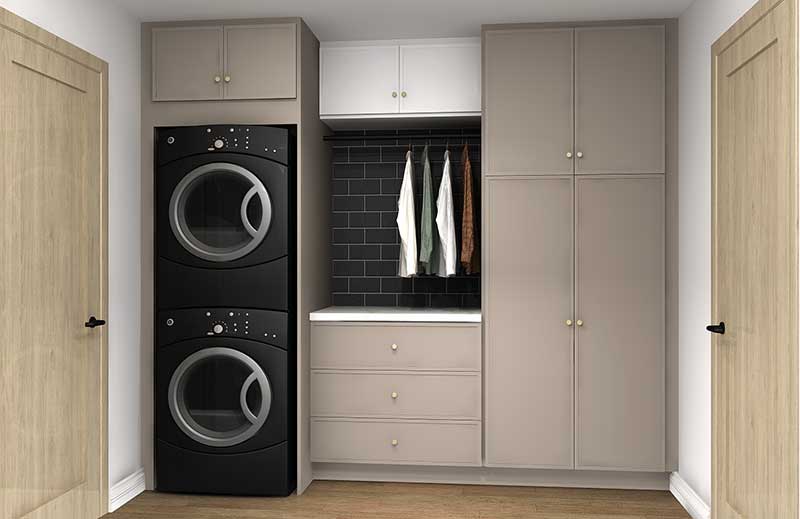 She adds that she designed 36″ deep side panels to encase the 27″ wide Single-Unit LG wash tower to create an integrated look. The area is completed by an IKEA UTRUSTA Internal Pull Out Cleaning rack.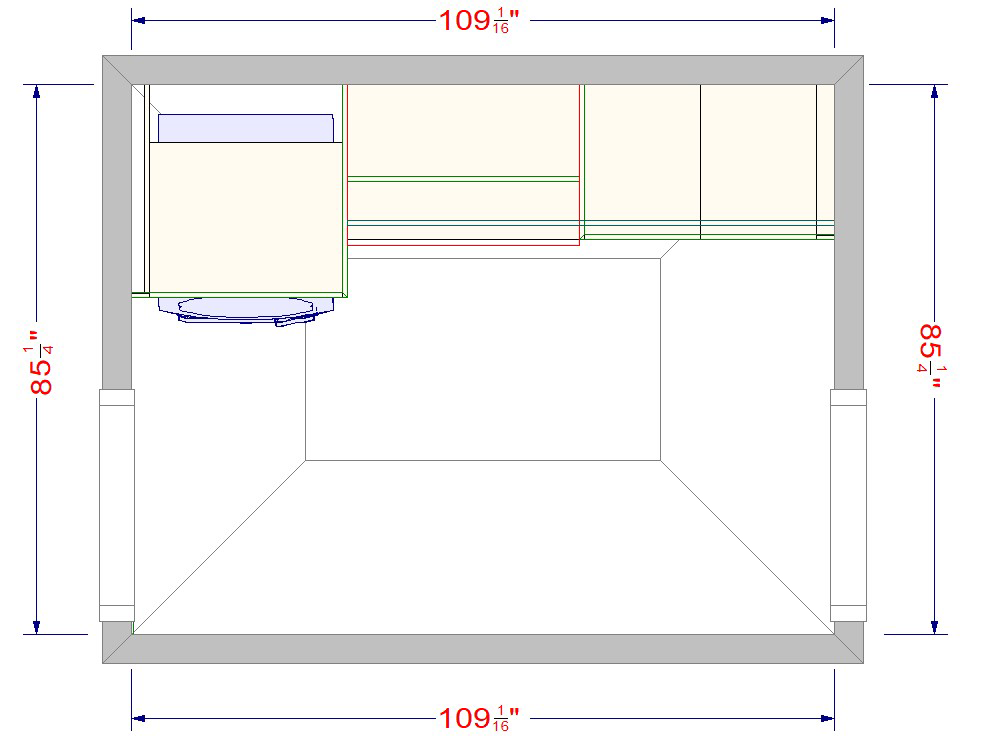 Project Numbers
| | |
| --- | --- |
| $3,859 | Semihandmade's SSS Quarterline, Desert Gray |
| $1,315 | Total IKEA Cabinet Cost |
| $128 | Total IKEA Extra Items |
| 64 sq feet | Room Area |
3. New Home IKEA Laundry Room
Finally, a Laundry area designed before building.
"As I was beginning my new home, I realized the plans didn't show a full laundry room area. So, I decided to add one designed with IKEA and Semihandmade cabinet fronts – featuring bright colors and organizational options," Priscilla notes.
This was crucial because she always found her laundry rooms to be dank and depressing – uninspiring! To address this, Priscilla and IKD designer Florence combined IKEA SEKTION cabinets with Semihandmade's Shaker Night Sky doors throughout the space. This includes cabinets around the stacked 27″(W)x39″(H) washer and dryer combo, with the tall and upper cabinets reaching the 99" ceiling.
"The client loved the 'verticality' of the tall cabinets and this IKEA laundry design really is a favorite because we love the Shaker style in the unique dark blue matte tones," Florence says.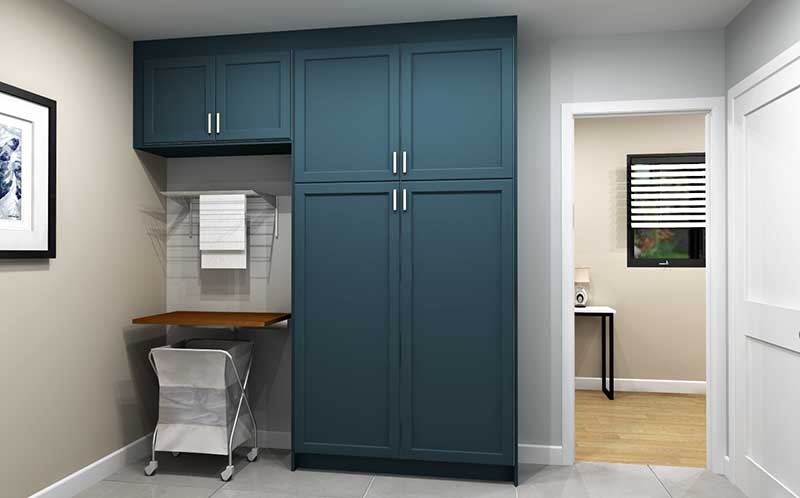 One of the other unique aspects of this IKEA laundry room is that Priscilla felt countertops would make the room look messy, so the space doesn't have any. She also didn't want a side by side washer dryer – concerned it would disrupt the workflow. So, aside from the washer/dryer combo, Florence incorporated a 36″ foldable Drop Leaf table and an IKEA BOAXEL 24″ drying rack on the adjacent side of the room for versatility.
Priscilla's entire IKEA laundry room features six IKEA cabinets and six side panels in total. For finishing touches, she painted the laundry room walls white and selected light beige flooring, to accent the cabinet doors as well.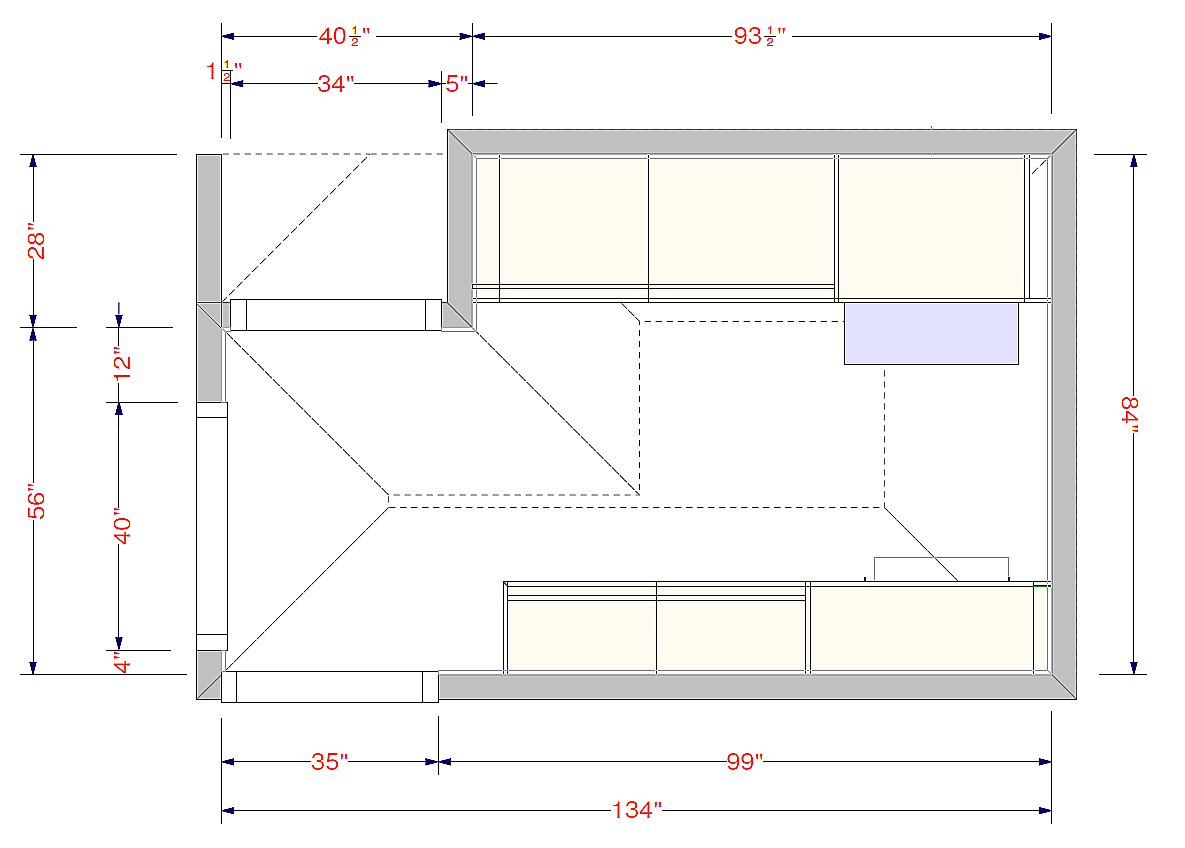 Project Numbers
| | |
| --- | --- |
| $5,119 | Semihandmade's SSS Quarterline, Desert Gray |
| $1,126 | Total IKEA Cabinet Cost |
| $178 | Total IKEA Extra Items |
| 71 sq feet | Room Area |
Get a Professional IKEA Laundry Room Design – All Online
Work with our certified designers to get a personalized laundry room designed around your needs and vision. If you're interested in learning more about our service, make sure to check out our IKEA Laundry Room Design Services.