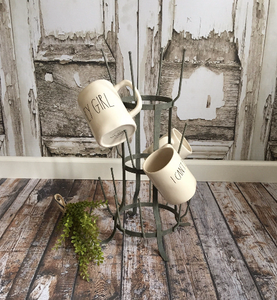 Table Top Mug Rack Rae Dunn Holder
Regular price
$54.99
$0.00
French Bottle Drying Rack Coffee Bar Coffee Mug Rack Metal Mug Rack. Rae Dunn Mug Rack. Table Top Mug Rack Rae Dunn holder. Rae Dunn Display

Beautiful French bottle drying rack - perfect for hanging your collectible mugs and cute decor!

These are made from quality galvanized metal.


Measures
20" tall
11" wide

Features 16 "arms", holds bottles or mugs 4" tall/deep.

The diameter of the inner bottom circle is 7" across. The diameter of the bottom feet is 11" across.

Love this rack!

You have even display your Rae Dunn Teapot nestled on top!