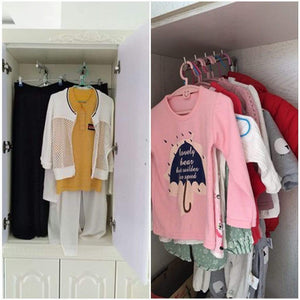 Sumnacon Wall Mounted Clothes Hanger Rack, Stainless Steel Garment Hooks Swing Arm Holder, Space Saver Coat Robe Storage Organizer Laundry Room Bedrooms, Clothing Drying Rack 5 Hooks
Regular price
$23.99
Sale price
$33.83
Brand: Sumnacon
Color: Silver
Features:
Heavy duty rack! If you are looking for ways to quickly hang clothes that you wear a lot in an easy, accessible, convenient, and nice looking way, this rack you should have. There's room for plenty of hangers, and It's handy to be able to swing the arm against the wall and out of the way when not in use.
SPACE SAVER - This rack is heavy duty.It can swing 180 degrees. Pretty easy to install, mounting screws are include in the package. Very durable and sturdy. Nice space saving design just open, to hang and close it up when done. Gives you an "instant clothes closet" anywhere; perfect for small spaces, out-of-the-way corners, bathrooms, on a porch or deck, and much more.
Handy, Tidy - It's such a simple idea, but keeps hangers off the shower rod. They are that just that handy for anything from hanging shirts to prevent wrinkling if left too long in the dryer, to using as a valet to lay out the clothing. Use your imagination, it not only can hang clothes, also can hang hat, bag,necklaces where they wouldn't get all tangled up and so on.
This is ideal for the space that has in your laundry room or other rooms. It also looks neat and attractive and matches other accessories at home. This colthes hooks is made from premium-grade stainless steel and it is sturdy enough to hold jeans, sweaters and jackets even when wet.
Sturdy, elegant and time saver- It has plenty of room for all the shirts coat and keeps them separated nicely. This allows to hang heavy items (coats, etc.) out of the way in a stacked/cascaded fashion. You can hang one in each of your families closet's, then they use them to hang up the clothes they will wear the next day! It simplified life and saves a ton of time every morning not having to hassle with "I have nothing to wear"!
Publisher: Sumnacon
Details: br>
Description:

The hangers are made very well and sturdy. Clothes can get very heavy, these racks when mounted
correctly would not have any problems holding the weight of the clothes. The garment hangers have a very nice finish as well.

Folding Save Space

Rotate clothes rack gives you the convenience as it provides extra storage space.
It can swing 180 degrees; You can swing it close to the wall to save space when you don`t use it.

Key product features include:

A sturdy clothes-hanging rack that gives you 10 inches of space to hang clothes on when you need it,
and folds away to almost nothing when you don't need it!

A super space-saving device! To give you an extra rack to hang your guest's coats when guests visit ,
to help you sort clothing when the seasons change, or whenever else you sometimes need extra hanger space.

Gives you an "instant clothes closet" anywhere; perfect for small spaces, out-of-the-way corners, bathrooms, on a porch or deck, and much more.

Perfect for small laundry room. Heavy duty, great quality with a nice finish. Easily swings out of the way when not in use.
Nicely holds shirts or pairs of pants straight from the washer and keeps them separated far enough from each other to dry and preventing wrinkles.
Sturdy enough to hold jeans, sweaters and jackets wet or dry.

Specifications:

Color: Silver.
Material: SUS304 Stainless Steel.
Total Length: About 11inch[28cm].
Wall-Mount Base Size[LxW]: About 4.7x1.65inch[12x4.2cm].
Hanger spokes (5 total): About 0.43" length,1.77" apart. Included screws (2 total): About 0.867" long.

Package:

2 x Clothes Hanger Holders.
4 x Screws.
4x Drywall Anchors
UPC: 606719428083
EAN: 606719428083
Package Dimensions: 11.5 x 4.9 x 1.9 inches