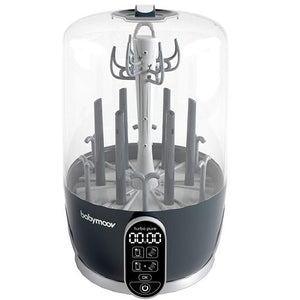 Babymoov Turbo Pure 4in1 Sterilzer
Regular price
$110.48
Sale price
$129.99
Did you know that your baby's immune system and intestinal flora begin to develop at the age of 6 months? Before this, your little one is highly vulnerable to bacteria that can be found pretty much everywhere in your kitchen. Babymoov and its co-creator parents have stepped in to provide you with the perfect solution! The Turbo Pure sterilises and dries baby bottles and accessories, and stores them in a purified environment. All in a natural, easy way! Sterilises right to the heart of the bottle: the Turbo Pure uses patented, innovative technology. It sterilises right into the centre of baby bottles in just 8 minutes. The steam emitted by the Turbo Pure is at 95 DegreeC to eliminate even the most resistant bacteria (99.9%), and destroys stubborn odours and calcium build-ups from milk. This steam is natural. It contains no chemicals. You can add up to 6 baby bottles as well as a breast pump, teats and other accessories compatible with sterilisation. Purified sterilisation: This steriliser is equipped with a unique 'Pure Drying' function (30, 45 or 60 mins). The hot air forced deep into the bottle is purified from bacteria, dust mites and other allergens via an HEPA filter. This is the safest, most hygienic way to dry your baby bottles, teats and other accessories after sterilisation. Any humidity and pollutants contained in the air are eliminated (99%). Your baby bottles are ready to use and retain all the benefits of sterilisation. The Turbo Pure comes supplied with a spare filter. No need to think about it for a year. Storage within a hygienic environment: Your baby bottles and accessories can be stored within the hygienic environment of the Turbo Pure for 24 hours (no risk of humidity or external pollutants). The LCD screen with tactile buttons is very intuitive. The 'All-in-one' allows you to run the complete cycle in just 38 minutes. The Turbo Pure guarantees your baby bottles are completely hygienic in an ultra-purified environment!
CLEANER STERILIZATION and DRYING: Patented technology eliminates 99.9% of bacteria thanks to steam nozzles that sterilize to the very core of your bottles and a high performance HEPA filtration system that guarantees a purified air, free from germs

FAST & EASY OPERATION: Complete sterilization in only 8 minutes! Drying options range from 30 to 60 minutes while maintaining a purified environment, making it the most hygienic drying method and a faster and cleaner option than the dishwasher

LARGE & ADJUSTABLE CAPACITY: Smart and practical design holds up to 6 bottles at once as well as breast pumps, infant toys, pacifiers, teethers and more. The steam outlets can easily be adjusted or removed to perfectly fit what you wish to sterilize.

HYGIENIC STORAGE FOR 36 HOURS: Convenient storage of any size baby bottles and accessories for up to 36 hours in a purified environment free from airborne pollutants, humidity, mold, dust mites, dirt particles, pet dander, pollution, germs and more.

4-In-1 Beneficial Design: Sterilizer, Dryer, Deodorizer and Storage System with a single button for one full cycle eliminates the risk of contamination, saves time, and also space by reducing the need for separate appliances.
From the manufacturer
Patented sterilization and unique drying technology
Over 20 Years Making Parents' Life Easier
Ever since it was founded in 1997, Babymoov has always put innovation at the heart of product development.
Because nothing can replace real-life experience, Babymoov works with you, the parents, to create products that make your life easier.
Recognized for their high quality, all Babymoov products have been tested by independent laboratories to meet strict regulatory standards and guarantee the safest and best gear for you and your baby.
Turbo Pure Universal Sterilizer Dryer
Complete sterilization guaranteed in only 8 minutes!
The Babymoov Turbo Pure is an advanced sterilizer that has been designed for the convenience of parents. Its fast and easy operation is a time-saver, while its patented sterilization technology eliminates 99.9% of bacteria and guarantees the safest for parents and their babies.
Turbo Pure is universal and is compatible with baby bottles (6 bottles at a time!), pacifiers, storage containers, breast pump parts, accessories, and more.
Its 4-in-1 operation includes the following functions:
Sterilizer

Dryer

Deodorizer

Storage rack
Very easy to use in 3 quick steps:
1: Add some water to start

Fill up the base with distilled or tap water. There's no need to measure!

2: Select the function to activate

Using the digital screen, select one of three modes: sterilization only, drying only, or both,

3: Press OK and let it run

Turbo Pure will automatically sterilize, dry, or both based on the program selected
Features you will love:
Patented sterilization

Unlike other sterilizers, Turbo Pure achieves sterilization with hot purified air in just 8 minutes and cleans right to the core of bottles, eliminating even the most resistant bacteria.

Unique drying and storage technology

With its built-in HEPA filtration system, Turbo Pure blocks indoor pollution, allergens, mold and more beyond the sterilization process. It offers the most hygienic drying method available and also stores for up to 36 hours in a clean environment.

Safest for baby

Turbo Pure is certified free from harmful chemicals by independent laboratories.

*BPA free: Reference No.: CL17-03310

**Phtalate free: Reference No: CL17-03312

Universal and adaptable

The steam outputs of the Turbo Pure can be removed to fit to to the size of the bottle, pump part, pacifier, or accessory you wish to sterilize.
Useful tip: run 1 or 2 empty sterilization cycles before 1st use.
Turbo Pure is backed by Babymoov's lifetime warranty