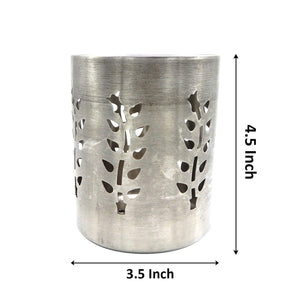 Stainless Steel Utensil Holder, Leaf Hole, Pen Holder, Brush Stand, Cutlery Storage Holder, Cutlery Holder For Table - Silver 4.5 Inch
Regular price
$7.49
Sale price
$10.56
Brand: WhopperOnline
Color: Silver
Features:
Great for storing medium-sized utensils: spatulas, ladles, spoons, tongs, whisks and more suitable for storing and keeping your favorite cooking utensils accessible on the countertop
High quality stainless steel making the stand highly durable, long lasting & rust free.
Organize your kitchen and dining area with this attractive classy Spoon Stand / Cutlery Holder. Holes are provided on the stand to make sure that water flows out of it easily.
Design of on Leaf Hole front and back allow water to flow through the base when you use this utensil holder as a drying rack
Product Size Length :- 4, Width :- 4 inch, Height :- 4.5 Inch
Publisher: WhopperOnline
Details: Beautiful looking cutlery holder which helps to keep spoons, forks, knives at one place. Also it can be used to keep near basin to keep toothbrush and other toiletries. Also its used on study table. It Keeps your spoons, forks and knives in one place. It Keeps your Cutlery Organized.Can be kept in the stand right after washing to drain out water. Two Separate Compartments for ease of Segregation of cutlery with stand for stronger grip. Crafted from Superior Steel specially plated for Long Life and Rust Prevention. A perfect blend of style and functionality, this cutlery holder will lend a subtle look to your table and kitchen setting.
UPC: 736631450654
EAN: 736631450654
Package Dimensions: 4.0 x 3.5 x 3.5 inches