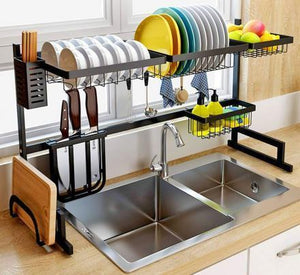 Stainless Steel Sink Drain Rack
Regular price
$42.99
Sale price
$88.00
Over The Sink Dish Drying Rack and Storage Area
For those living in extra tiny homes or apartments, space is a luxury, and sometimes you can't afford the space allowing your dishes to dry next to the sink. This uniquely designed drying rack rests right over your sink, so that not only are you not wasting any space, all the excess water then drips right back into the sink for no mess afterwards.
Apparently almost every household in Finland has one of these over-the-sink drying racks, but it seems they're more rare here in the U.S.  It's not only a way to dry your dishes, but the over-the-sink rack is also a great way to store your dishes if you have limited cupboard space.
You can wash your dishes, put them in the over-the-sink drying rack and let them dry, and then keep them in there until you need to use a dish. At that point it's super easy to and convenient to just grab the plate or cup right from the drying rack.
The unique over the sink drying rack is made from super durable 304 stainless steel so it's made to last, has an incredible functional design that lets you dry and store plates, bowls, cups, mugs, silverware, utensils, and more.
Not only can you dry and store dishes, silverware, and cups on the over-the-sink drying rack, but there's even a spot to safely store and dry large knives, keep fresh produce or plants, place soap bottles or bars, hooks to hang towels, and a spot for drying cutting boards.
Will the over-the-sink drying rack fit my tall faucet?
You can arrange the racks however you like on the two tiers. So if you have an extra tall faucet, you can just not place the racks directly above your faucet. Though the lowest part of the second tier drying rack will measure 17.5 inches from the counter.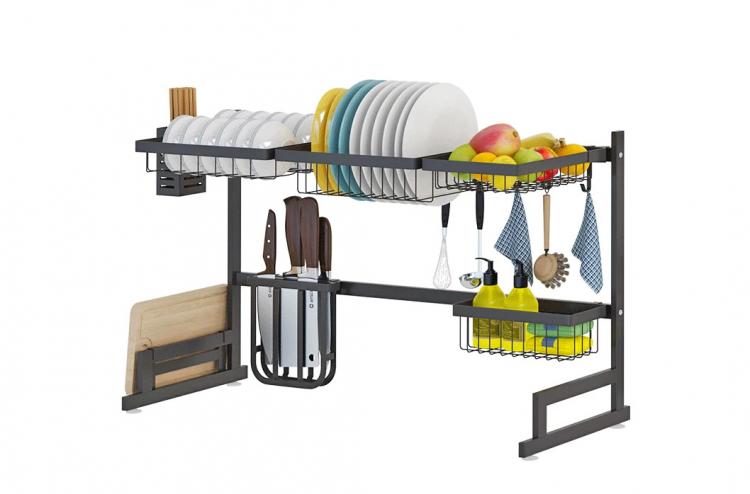 How big is the sink drying rack?
The over-the-sink drying rack features 2 tiers, uses a punch-free installation method, is black in color, fits over most standard sized sinks, and comes in two different sizes, a smaller version that measures 25.6 inches wide, and a larger version that measures 33.5 inches wide. Both models then measure 20.5 inches tall x 12.6 inches deep.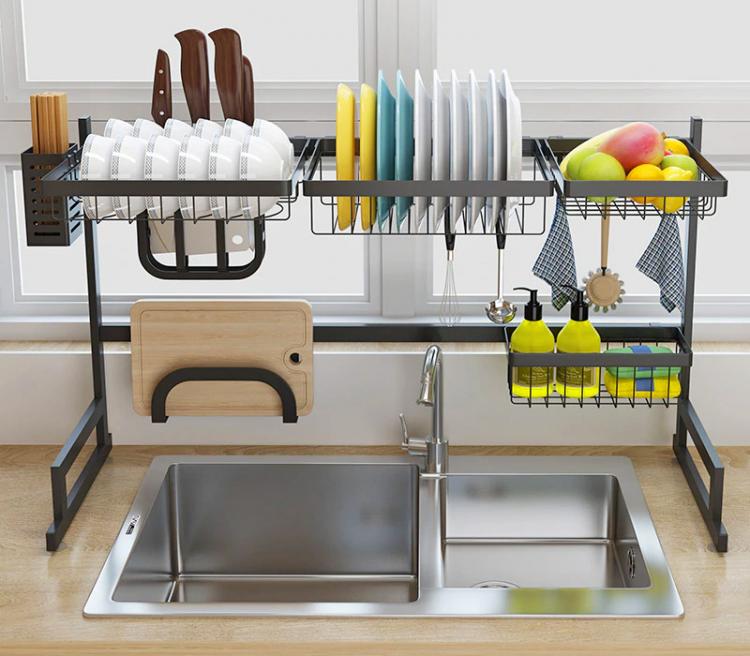 There's also another model that has an adjustable length. This way no matter what size sink you have (assuming it's 39.3 inches or smaller) it'll be able to fit it perfectly. This version is also silver in color and has rounded edges.