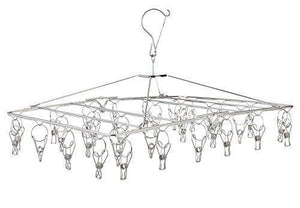 Stainless Steel Hanging Drying Rack– Collapsible Portable Clip and Drip Hanger with 32 Overstriking Wire Clothespins For Drying Clothing Towels/Diapers/ Underwear/ Socks
Regular price
$17.99
Sale price
$25.37
Brand: KESO HOME
Color: 32 Clips
Features:
FOLDABLE and ROTATABLE- Hang up to 32 garments in 1 compact space for multipurpose drying or storage. Collapses flat when not in use for easy storage and can rotate so that you can just turn it towards you instead of having to reach for the back clips. Handy for indoor hanging of those delicate items in laundry room or hang intimates and small items outside to dry in the fresh air. A replacement clothes dryer for the environmentally conscious consumer.
TIGHT STURDY STAINLESS STEEL CLIPS- Eco-friendly durable clip and drip laundry hanger has high quality 32 pegs with long lasting spring. One piece integrated spring mechanism's tension is much stronger than weak wooden clothespins and guaranteed not to break or fall apart. Stainless steel leaves no rust marks on damp clothing and doesn't leave "pinch marks" on the clothing.
DURABLE CONSTRUCTION- Sturdy stainless steel wire, 4.5mm in bold , durable, strong bearing and high strength against corrosion rust. With superior quality welding designed to last a lifetime. Built strong with stainless steel chain links to support a fully loaded rack. Will not break, sag or stretch under the weight of wet laundry. Will not fall apart, break down or disintegrate like plastic in the UV sunlight and extreme heat.
INTEGRATED HANGING HOOK- Easy to use as a clothes hanger and 360 degree rotatable panel design of double line steel. The large metal hook allows you to hang it anywhere-clothesline, shower curtain rod, garment rack or shelf. Hanging design saves valuable floor space while saving money on drying costs.
WARRANTY AND 100% MONEY BACK GUARANTEE - We stand by the quality of our products. We offer a 180-Day Money Back Guarantee and a 2 Year Manufacturer's Warranty. If any rust occurs in the product within 2 years, we will send you a replacement free, no return required.
Publisher: KESOHOME
Details: Durable Stainless Clothes Drying Rack with 32 Sturdy Clothespin Clips for Space Saving and Storage!

It takes up a fraction of the space of a clothesline or bulky metal floor racks and features an integrated hanging hook that makes it simple to hang anywhere indoors or outdoors. The rack is outfitted with 32 hanging stainless steel wire clips.

Just squeeze a clip to open it, slide your garment into the clamp and let go! The clip tension will keep it firmly in place without leaving a mark on the fabric. Your clothes can drip dry in no time. After your clothes are freshly air dried you can simply move the rack of dry clothing to your closet for storage. Or you can fold up the rack and put it away until next time.

No other hanging laundry rack design on Amazon is quite like this hanging laundry rack. Other racks have room for only a few garments, but our rack can hold up to 32 garments at once without taking up more space! Plus, our rack is constructed entirely out of high quality rust resistant stainless steel without any plastic parts that can snap and break.

Buy Now and enjoy this great Clothes Drying Rack ! We are so certain that these Stainless Clothes Drying Rack will bring life to your next occasion.
UPC: 712022560539
EAN: 0712022560539
Package Dimensions: 13.7 x 10.8 x 2.6 inches
Would be totally unbalanced for more than just a few (maybe 6-8 at a time?) cloth diapers.
By KCWebb on December 1, 2018
No I don't use it for diapers but I use it to hang my spinning pants and my sports bras
By Camille on December 1, 2018
no, but i love this! i don't have the 32 clip hanger, but am so pleased with the strength and durability of the steel hanger. plastic models dry and break in the heat! can't imagine this wouldn't work for cloth diapers!
By jsc on November 30, 2018
I don't see why not. It is well made and folds for storage
By Amazon Customer on November 30, 2018
13" x 19" and has 32 hooks. I have it hanging from the ceiling in my basement and it doesn't take up any space at all. It's much better than the last one I had which was plastic and easily broken.
By Amazon Customer on December 19, 2017
It's about 15" x 15" square
By William a chapman on December 19, 2017
13x19x11down
By Iney C'ville on December 19, 2017
20 x 13.4
By Denise on September 6, 2017
I don't know. It wouldn't stick to the wall, so I tossed it.
By Amazon Customer on September 6, 2017
I don't know how much weight it's rated to hold, but it does were well holding under garments, socks and othersmall clothing items. It's a very sturdy unit. I don't think you need to worry about it collapsing unless your hanging lots of heavy items or clothing such as blue jeans.
By mdh55 on August 8, 2018
Hi, 
No issues so far. Regarding weight I have not measured how much weight it can hold. I guess depends what your hanging up to dry. 
The item I purchased was the round one that don't fold. 
Hope this helps & all the best!
By T. Michael on August 8, 2018
i have one with 18 clips and use it for socks and underware, sometimes with a hand towel or even a tshirt. it is sturdy and i love it! will get another sometime soon as i don't want more than 18--would crowd wet clothes too much. don't think it will collapse, pretty sturdy. am so glad to find a metal one as plastic…

 
By jsc on August 8, 2018
It seems strong enough for those things it was primarily designed to hold, clothes. The parts that keep it from folding up while in use are the metal rods that go from the corners to the hanger. It should be fine for normal garments like silks, socks or for drying edible and aromatic herbs, like rosemary or lavender. I…

 
By Bruce Lynn on August 8, 2018
i wouldnt use this, not because it might fold, which i don't think it willl, but because using a reg. hanger with 2 clips might work much better--esp. of you are a tall guy. the drying rack works like a charm forr shorterr items and is solidly built. weiht would have to be pretty heavy to cause it to fold! i love…

 
By jsc on August 9, 2018