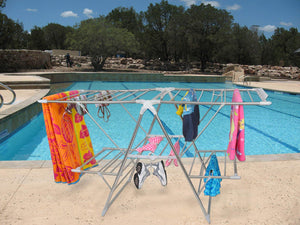 Smart Design Heavy Duty Clothes Drying Rack w/Adjustable Wings & Foldable Design - w/ 66 Feet of Drying Space - Stainless Steel Metal - Drying Clothes, Garments, Towels (61 x 39-57 Inch) [Silver]
Regular price
$49.97
Sale price
$70.46
Brand: Smart Design
Color: Silver
Features:
[STEEL CLOTHES DRYING RACK] Offers 66 feet of laundry drying space for clothes, blankets, & linens.
[FEATURES] sturdy steel construction that folds flat & each side adjustable & comes fully assembled.
[SMART DESIGN QUALITY] All Smart Design products undergo stringent quality assurance & control.
[24/7 EMAIL SUPPORT] Contact us online or phone for product questions, concerns, & warranty info.
[DIMENSIONS] 61.5 x 24.5 x 39-56.75 inches (L x W x H)
Publisher: Smart Design
Details: Smart Design Steel Clothes Drying Rack w/ Adjustable Wings [Silver]
The Smart Design Clothes Drying Rack is the perfect home solution for drying those delicates and non-dry laundry items.
This ergonomic rack includes 66 feet of drying space for all of the items you do not want in the dryer.

Package Includes
Steel Clothes Drying Rack w/ Adjustable Wings is designed for drying garments & hanging clothes to dry inside or outdoor air drying.
Accommodates full length garments with the sides adjustable up to 57 inches high.

Features and Benefits
Made of sturdy steel, the rack can be knocked down and folded flat for storage when not in use.
Set-up is quick and easy and requires absolutely no tools.

Product Specifications
Dimensions: 61.5(L) x 24.5(W) x 39(H) to 56.75(H) inches
Room: 66 Feet of Drying Space
Color: Silver
Material: Stainless Steel
Weight: 13 Pounds
Set Up: No Tools Required

Brand and Warranty Info
People around the world live smarter with Smart Design, manufacturers of innovative, high-quality home and commercial organizational and laundry care products.
Since 1970, Smart Design has set the standard of excellence in the Home Organization Industry by developing products that allow consumers to optimize their needs.
Everything from your closet, kitchen, laundry room, home office, garage and auto to your workplace.

Located in Southern California, Smart Design is a family-owned company with customer service at the core of our business.
If you have any questions, issues, or concerns about your order, reach out to our Customer Service Team via email anytime, 24/7.
Our Team will do their best to respond to all emails within 24 hours.
Visit us online for phone support Monday-Friday 8 am - 5 pm PST.
UPC: 81654015831
EAN: 81654015831
Package Dimensions: 42.5 x 24.0 x 5.2 inches