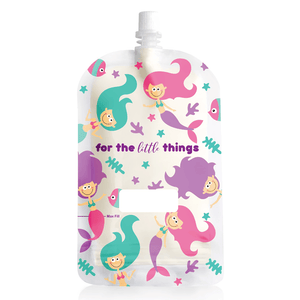 Sinchies Mermaid 200ml Reusable Food Pouches 10pk
Regular price
$25.50
$0.00
Check these pretty mermaid reusable top spout pouches in 200ml! How cool are these? Your kids are going to LOVE eating from these and you may even be able to sneak some veggies into their smoothies.
Our 200ml Sinchies reusable food pouches are ready to fill with your favourite yoghurt, smoothie, custard, baby food or jelly!
Filling your pouches is super easy – Fill your 200ml top spout Sinchies with a funnel or 1L Pouch
Wash your pouches out with most baby cleaning brushes 
Dry your pouches on a nifty drying rack which keeps your pouches open
Freezer and Dishwasher Safe, Free from BPA, Phthalate and PVC, these on the run food pouches are handy and easy to use.
Home-made goodness with store bought convenience! You can monitor exactly what goes into the pouch, ensuring your children receive optimum nutrition that is free from preservatives, sugars or additives.
Choose your own healthy ingredients, whizz, pour and zip it up! Designed with a top spout for children to suck or squeeze out the contents, No need for a bowl or spoon!
Sinchies reusable pouches have a ziplock which allows for easy filling and washing.
They cut food costs, encourage healthy eating, reduce waste, and provide a fun and clean way to feed your children, whether you're at home, at school or out and about.
Sinchies are suitable for all sorts of baby foods, smoothies, fruit crushers, yoghurt, jelly, custard as well as other purposes such as travel toiletries, sauces or salad dressings.
Take them camping, in the car or on the plane.
Eco friendly – With the environment in mind, minimal packaging and biodegradable or recyclable materials have been used.
CAUTION:
Ensure young children are supervised when using this product! It contains small parts (the lid/cap) which children could swallow or choke on. Ensure you take the ring off the spout after unscrewing the lid, before giving it to your little one to enjoy! We recommend purchasing the child safe choke free lids if using this product for little ones.