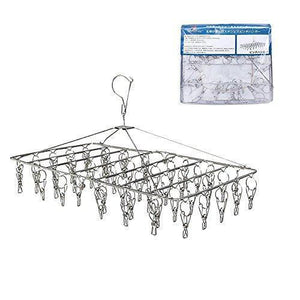 Rosefray 52 Clips Metal Clothespins, Folding Stainless Steel Clothes Drying Rack, Portable Metal Hanger, Great for Quick Hand Wash of Delicates
Regular price
$25.99
Sale price
$36.65
Brand: Rosefray
Color: Silver
Features:
Durable Stainless Steel: It is a strong and high quality all-stainless steel laundry hanger. There is no discoloration by sunshine, it is strong against rust and you can use it anytime and cleanly. Compared with plastic, it lasts longer.
360 Degree Rotation: Because a convenient rotating neck was designed, the hanger can rotate 360° and it is easy to dry laundry from all directions. The orientation of the hanger can be changed freely, pinches are alternately arranged, and breathability is very good.
Collapsible: When not in use, it is a folding type convenient for storage. It is foldable and compact, saves space and is practical high laundry hanger.
Spreading Adaptation: Multifunction clothes hanger that can accommodate various scenes such as handkerchiefs, towels, skirts, trousers, hats, socks, and is ideal for housewives.
Stainless Steel Hangers Size (approx): Width 62 cm × depth 34 cm × height 29.5 cm (when used) ; Width 34 cm × depth 31 cm × height 5 cm (when folded)
Publisher: Rosefray
Details:
Laundry day would be easy if everything could be thrown into the dryer, but delicate fabrics just can't take the heat and the tumbling.

So what do you do with your hosiery, intimate apparel and other items that just can't be placed in the dryer? You could put up a clothesline or drying rack outside, in the basement or the laundry room, but both can be eyesores and take up so much space!

If you're looking for a solution that makes clothes drying quick and simple, the Rosefray Laundry Hanging Clothing Rack is the answer! It takes up a fraction of the space of a clothesline or bulky metal floor racks and features an integrated hanging hook that makes it simple to hang anywhere indoors or outdoors.

Just squeeze a clip to open it, slide your garment into the clamp and let go! The clip tension will keep it firmly in place without leaving a mark on the fabric. Your clothes can drip dry in no time. After your clothes are freshly air dried you can simply move the rack of dry clothing to your closet for storage. Or you can fold up the rack and put it away until next time.

Other racks have room for only a few garments, but our rack can hold up to 52 garments at once .Plus, our rack is constructed entirely out of high quality rust resistant stainless steel without any plastic parts that can snap and break.

Designed as both a space-saver and time-saver as well as a money saver on laundry day. No more waiting your turn at coin-operated shared dryers.
UPC: 670534997215
EAN: 0670534997215
Package Dimensions: 14.1 x 13.3 x 1.9 inches