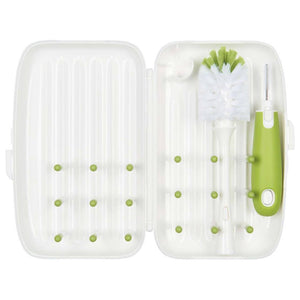 Oxo Tot On-The-Go Drying Rack with Bottle Brush
Regular price
$1,195.00
$1,195.00
Now you can say good-bye to wet brushes and dirty bottles in inconvenient plastic bags! The OXO Tot On-the-Go Drying Rack and Bottle Brush is the all-in-one portable solution for cleaning and drying bottles, cups, nipples, pump parts and more. It opens up into a drying rack with flexible tines to accommodate all things baby. When folded, its compact size tucks easily into a diaper bag or purse. Neatly tucked inside the folded drying rack are a nipple cleaner and Bottle Brush head that assemble to form a full sized Bottle Brush.
– Compact size tucks easily into diaper bags or purses.
– Opens up into a Drying Rack which accommodates bottles, nipples, breast pump parts and more.
– Raised ribs keep items away from water at bottom of tray.
– Fingers keep bottles, cups and small parts elevated for quick drying.
– The Brush assembles into a full sized brush with a soft handle that is non-slip, even when wet.
– Silicone detail cleaner flexes to clean tight spots and small parts
– Rack includes built-in bottle brush stand. When not in use, Brush fits securely onto pegs inside Drying Rack.
Dimensions (closed): 8.5 x 5.5 x 2.25 inches
Dimensions (opened): 8.5 x 10.75 x 2 inches