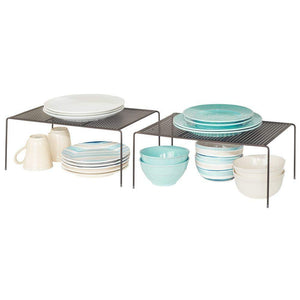 mDesign Metal Kitchen Pantry, Countertop Organizer Storage Shelves, Raised Cabinet Shelf Racks - for Food, Dishes, Plates, Dishes, Bowls, Mugs, Glasses Non-skid Feet - Extra Large, 2 Pack - Bronze
Regular price
$29.99
Sale price
$42.29
Brand: mDesign
Color: Bronze
Features:
MAXIMIZE SPACE: Customize to fit your needs; These shelving units provide you with a raised surface to allow you to stack cups, glassware and coffee cups on the shelf while storing dinner dishes and serving bowls underneath; Use as a drying rack when baking; Prop up cookbooks; Raise pots/plants near the window; Maximize pantry shelves by going vertical with your storage space - these are perfect for organizing boxed and canned goods; Also great for maximizing space under sinks; Set of 2
CUSTOMIZE YOUR STORAGE: Use these handy shelving units side by side for longer shelving spaces, or use individually to make the most of your storage and shelves; Organize like a pro and instantly creates additional storage in crowded work areas, shelves, closets, cabinets and more; Use in kitchens as well as throughout the house, great for bathroom, craft room, garages, laundry/utility rooms, office and other shelving and closets in your home; Ideal for the home or professional organizer
FUNCTIONAL & VERSATILE: Create extra storage space virtually anywhere; Ideal for areas with limited shelving; Provides flexibility to frequently rearrange and organize dishes, mugs, bowls, plates, platters, cookware, mixing bowls, serving pieces, foods, herbs and spices; Ideal for under the sink storage, organize your cleaning products, and dishwashing supplies; Perfect for small space living as well as apartments, condos, campers, RVs, cabins and tiny homes
QUALITY CONSTRUCTION: Made of sturdy perforated steel top and steel wire legs with a durable rust-resistant finish; Features non-slip plastic feet; Easy Care - wipe clean with a damp cloth
THOUGHTFULLY SIZED: Each Measures 11" x 17" x 7" high
Publisher: MetroDecor
Details: The mDesign Storage Shelves make the most of the unused storage space on your kitchen counter tops or in cabinets. The raised platform format makes it easy to maximize small spaces by providing double the storage. Store plates and dishes below, while storing cups or glasses on top. Use throughout your house to maximize your homes storage potential.
UPC: 192173033265
EAN: 192173033265
Package Dimensions: 16.5 x 12.3 x 0.4 inches