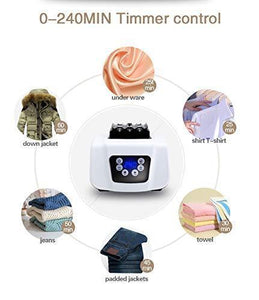 Manatee Clothes Dryer Portable Drying Rack for Laundry 1200W - 33 LB Capacity Energy Saving (Anion) Folding Dryer Quick Dry & Efficient Mode Digital Automatic Timer with Remote Control
Regular price
$89.99
Sale price
$126.89
Brand: Manatee
Color: Blue
Features:
Anion Sterilize Garments Dryer : (ANION - Bad Ion) Sanitizing Garments Dryer which is helping the dryer blank the garments save you inflicting mildew spores, pollen, odors, micro organism, viruses, Mud and different risky airborne debris
Huge Capability Options 15 KG of Garments in 1 dry, Smart temperature Keep watch over, Totally get rid of overheating coincidence which be sure safeness
Foldable and Simple to Retailer and store house, Modes : Fast dry and Environment friendly Mode, FREE Wi-fi Far off Keep watch over perform inside 8 meters
Operating the Transportable dryer is not going to value you a variety of cash both, with no gasoline line and with minimum Energy it is going to value you a fragment of a regular dryer. Set the timer or simply set to "ON" and you are going to have dry Garments very quickly
The compact dimension of this Garments dryer is superb for dorms, flats, condos, motor houses, RV's, tenting and extra
General Dimensions: 59 x 30 x 20 Inches, Voltage: 110 Volts, Capability: 15 KG, Energy: 1000 W, Timer : 0 - 240 Mins
Publisher: MANATEE
Details:
HOW TO INSTALL VIDEO LINK : https://www.youtube.com/watch?v=Ew_t7CZO984
The Best Portable ANION Ventless Clothes Dryer you will love how clean, soft and fresh it feels!
- Are you stuck with loads of laundry without a dryer?
- Cloudy day, a series of clothes are hard to dry?
- Looking for quickly and efficiently drying clothes?
- Living in an Apartment, Dorm, Camper or even a small area room?
Introducing Our New Manatee Electric Dryer to the rescue!
Specifications
- Overall Dimensions: 59 x 30 x 20 Inches
- Voltage: 110 Volts
- Capacity: 15 KG
- Power: 1200 W
- Timer : 0 - 240 Minutes
Features
- Anion Sterilize Clothes Dryer : (ANION - Negative Ion) Sanitizing Clothes Dryer which helps the dryer clean the clothes prevent causing mold spores, pollen, odors, bacteria, viruses, dust and other hazardous airborne particles.
- Large Capacity Features 15 KG of Clothes in 1 dry
- Intelligent temperature Control, Completely eliminate overheating accident which ensure safeness
- Foldable and Easy to Store and save space
- Two Modes : Quick dry and Efficient Mode
- FREE Wireless Remote Control operate within 8 meters
- Running the portable dryer will not cost you a whole lot of money either, without a gas line and with minimal power it will cost you a fraction of a typical dryer. Set the timer or just set to "ON" and you will have dry clothes in no time.
- The compact size of this clothes dryer is great for dorms, apartments, condos, motor homes, RV's, camping and more
Note : Drying time may vary depends on how many clothes you put inside the dryer. Additional time is needed to let them totally dry.
Guarantee HIGH QUALITY!
>> Scroll Up & Click the Yellow "Add to Cart" Button Now Before We Run Out of Stock!
UPC: 850003609140
EAN: 634304877435
Package Dimensions: 28.3 x 9.4 x 9.1 inches