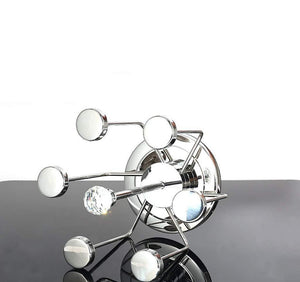 LIAN Drain Cup Holder, Mugs Rotating Drying Rack Hanger Glasses Organizer Tabletop Decor 232324.5cm
Regular price
$112.78
Sale price
$159.02
Brand: LIAN
Features:
★ The essential washing up tool - to dry dishes quickly and hygienically
★ Rational and practical design, easy and quick assembly, appealing appearance
★This elegant 6-cup drainer stand has a solid design circular base, perfect for any kitchen worktop or table.
★Made of anti-rust coated stainless steel, sturdy for long use, lightweight.
★Total size approx: 23 * 23 * 24.5cm(9.1 * 9.1 * 9.6in).
Publisher: LIAN
Details: Features:
Simple and stylish design looks harmonious in your background environment, an elegant artist ornament on your table.
The tree has 6 sturdy chrome arms to hold 6 cups.
Anti-skid mat at the bottom, no damage to the table.
Great Gift - It is a great gift for those like to collect mugs and glass.

Product: dish drainers
Style: Europe
Color: silver
Material: stainless steel
Product size: 23*23*24.5cm
Accessories: dish drainers
Note:
Cutlery not included
The size may have an error of 1 ~ 2 cm

Our Goal is to Just Make Things Better.
Share Our Service with You, Share Your Praise with Us.
The picture is for reference only, in kind prevail!
Quality Assurance
We are always accurate in our descriptions and 100% confident in our products which is why we offer completely FREE returns
(Thank you for your valuable time to understand my products, if you have any need, please contact me and wish you happy everyday)
EAN: 6951947021990