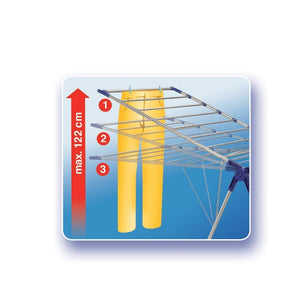 Leifheit Roma 150 Tripod Clothes Drying Rack Silver/Blue
Regular price
$62.95
Sale price
$64.84
Brand: Leifheit
Color: Silver/Blue
Features:
High Quality laundry dryer Made of rustproof stainless steel
Drying length 16.4 yard
Wings individually material adjustable from 37.4 to 56.7 inch
Publisher: Leifheit
Details: Whether on the outside or on the inside, whether new or already in use for years: Leifheit laundry dryer Roma made of high quality stainless steel offers a durable hygienic and clean drying place for the laundry. Practical: the two folding elements are adjustable to the desired height from 37.4 to 56.7 inch. Long laundry items like trousers or bath towels can be dried without problems. With 16.4 yard drying length the laundry dryer Roma offers space for approx. 1, 5 loads of laundry.
UPC: 47738811560
EAN: 47738811560
Package Dimensions: 41.7 x 23.5 x 2.4 inches