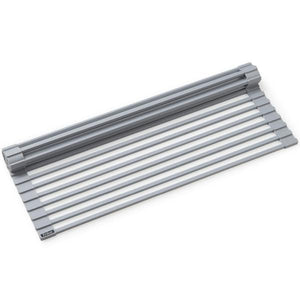 KRAUS Multipurpose Over Sink Roll-Up Dish Drying Rack in Grey
Regular price
$24.95
Sale price
$50.00
No modern kitchen is complete without the multipurpose KRM-10 roll-up dish drying rack from Kraus. The versatile and essential kitchen accessory sports a sharp look and endless uses. Set it over your kitchen sink to rinse and drip-dry fresh produce. Place it on the counter top to dry dishes. A stainless steel, 400 Degree heat-safe construction makes it an excellent trivet to support hot cookware and protect your counters from blistering pots and pans. A soft BPA-free silicone coating cushions delicate dishware and is 100% food-safe. The convenient roll-up design keeps your counters in perfect order. Available in modern matte grey or alluring black, the roll-up dish drying rack puts the final polish on the contemporary kitchen.
Benefits & Features:
Turn Your Kitchen Sink Into Prep Central with this multipurpose roll-up dish drying rack. Helps with every aspect of your kitchen routine, from food prep to cleanup, all while saving counter space
Silicone-Coated Stainless Steel: Made from high-quality stainless steel with thick, soft BPA-free silicone coating that cushions delicate dishware and creates a food-safe surface for draining produce after washing
Strong and Sturdy Design: Durable construction will not bend or warp even when used with heavy cookware; easily supports 12 qt stockpot full of water
Superior Silicone Coating provides a non-slip surface and prevents corrosion and rust
Heat-Safe up to

400 Degree

: Perfect to use as a non-slip trivet for hot pans or baking sheets straight out of the oven. Lay it flat on any kitchen counter top to protect against damage from hot items
Use it as a Rinsing Rack: Roll this mat out over your kitchen sink to rinse and drip-dry your fruits and veggies
Fits Any Standard-Size Sink
Unclutters Countertops by transforming the sink into additional workspace
Easy to Store: Rolls up quickly and neatly into a compact cylinder to save space, stores horizontally or vertically
Easy to Clean: Dishwasher-safe or simply rinse it off in the sink
Measures 20.5" x 12.7" when fully opened
Matte Grey Color will look great with any kitchen sink
Why Choose Kraus?
At Kraus, we are driven to create products of remarkable beauty. Our unwavering dedication to manufacturing affordable kitchen and bath solutions of superior quality can be found in every trace of design. By blending graceful form and flawless functionality, our products bring balance and harmony to any space. Make a statement in your kitchen and bath with our elegant, on trend products that deliver long-lasting performance. From professionals to DIY remodelers and everyone in between, you're invited to experience the exceptional refinements and superior customer service that are our hallmarks. Discover the inspiration that awaits at Kraus, and Live Beautifully™
. To learn more about our products and the Kraus brand, please visit our website at www.kraususa.com.
Weight (lbs): 2.43