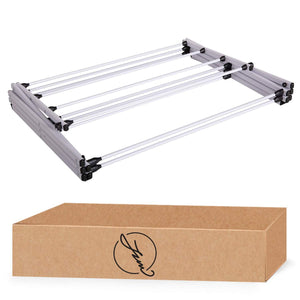 JZM Multipurpose Foldable Clothes Dryer Rack with Sturdy Durable and Flexible Design Lightweight Clothing Hangers
Regular price
$21.99
Sale price
$31.01
Brand: JZM
Color: White
Features:
Excellent Quality multipurpose and collapsible clothes dryer rack made with carbon steel tube which is rust and weather resistant
Increased Efficiency allows both indoor and outdoor usage
Lightweight and portable, about 4.3 pounds in weight. Small and compact size allows easy fitting into small apartments
Maximum of 24 pound weight capacity
Overall Dimension: 14.5x29.5x41.75 inches (LxWxH)
Publisher: YiCaiNianHua
Details:
Our foldable clothes dryer rack ensures you have both portability and efficiency in one item. Made from carbon steel tube, the product is rust resistant and can last in any weather condition. Its compact size makes it ideal for smaller items and does not occupy too much space. The lightweight design allows an easy transportation and perfect fitting into smaller apartments.
Features:
1. Reliability: dry different clothe types without getting them squeezed or rumpled
2. Collapsible/foldable: weighs about 4.3 pounds with an accordion design that easily folds flat
3. Long-lasting: carbon steel tubing which is both waterproof and rust resistance. The anti-skid plastic protective cap at the bottom aids with stability
4. Compact Design: This drying rack is ideal for smaller items, it doesn't occupy too much place when in use, easy to drop into position for use, can be used indoors or outdoors.
5. Small Size: This drying rack is small size, 14.5x29.5x41.75inches (LxWxH), but features a top shelf for sweaters and other flat-drying items.
Specification:
-Brand Name: JZM
-Color: White
-Material: Stainless Steel
-Unfolded Size: 14.5 x 29.5 x 41.75 inches
-Package Size: 27 x 5.7 x 4 inches
-Product Weight: 4.3 pounds
-Package Weight: 4.9 pounds
About us:
JZM is a professional provider of various high-quality home storage products, such as shoe rack, laundry hamper, drying racks and shelving unit etc. All the products can help you make the best use of your space, keeping your home in tidy and in order! With innovative design and sophisticated styling, JZM makes itself a welcome and useful addition to any home. We will supply you with the means to a brighter and more efficient tomorrow.
UPC: 738596599447
EAN: 738596599447
Package Dimensions: 27.0 x 5.8 x 3.5 inches