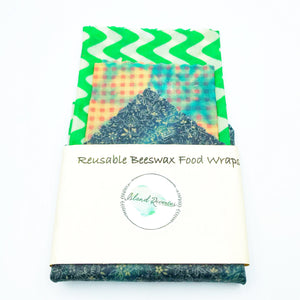 Island Reveries Reusable Beeswax Food Wraps, Green, Pink and Black
Regular price
$25.00
$0.00
Island Reveries Reusable Beeswax Food Wraps, Green, Pink and Black
Each is a set of 3 in various sizes. (12 x 12, 10 x10 and 7 1/2 x 7 1/2 inches)
What are Beeswax reusable food wraps?  Think ECO-SARAN wrap or ECO-ZIPLOC baggies!
Are you trying to cut back on your plastic use by finding Saran Wrap or Ziploc bag alternatives? Beeswax food wraps are your answer. These wraps are handmade on Hornby Island and Vancouver Island, and you can literally cover anything from bowls to plates to platters to jars and wrap anything from cured meats, to cheeses, to apple slices, to crackers and so so much more!
Beeswax food wraps are perfect for anything from kid's lunches, to covering leftovers, to packing picnics or potluck dishes. The can even be used for non-food items, such as wrapping toiletries when traveling or your child's soother or teether when not in use.
Not only do these wraps preserve your food amazingly well (beeswax was used by the ancient Egyptians in the mummification process and to preserve papyrus scrolls and artwork!), they are super anti-microbial, make your fridge smell and look awesome, and reduce the need for plastic wraps or baggies. Our Beeswax food wraps are handmade in Courtenay and Campbell River on Vancouver Island and seasonally on Hornby Island.
Ingredients: Prewashed Cotton, organic yellow beeswax, organic pinon (Pine Resin), pure jojoba oil
How do you clean them? Simply wash your Beeswax Wraps with cold water and mild soap, then hang or put on drying rack to dry!
Not for use with raw meats, in oven, microwave or dishwasher.