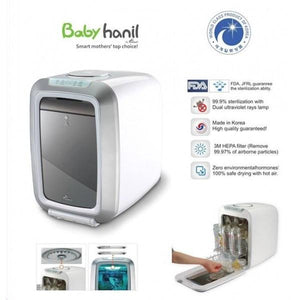 HANIL UV Sterilizer Dryer (From Korea)
Regular price
$369.00
Sale price
$399.00
HANIL UV Sterilizer Dryer (From Korea)
NEW! Premium medical-grade sterilization that kills 99.97% bacteria.

100% Made in Korea! Premium quality!

3M HEPA filter (Patented design)
Sterilize with dual UV lamp (OSRAM, Italy) & 100% safe drying with IR halogen lamp (DR FISCHER, France)
Tested by Singapore TUV SUD (PSB), US FDA, Japan JFRL, Korea KCL.
√ Tested by Singapore TUV SUD PSB (Test report 7191125433-CHM15-RC)
√ Used by Thomson Medical Centre parentcraft, nursery wards and premium suites
√ Used by Kinderland (SIngapore) Infant Centres
√ Effectively stores your baby bottles & accessories with deodorization/ventilation effect.
√ 3M HEPA filter blocks away air-borne dust & particles.
√ The compact size saves you kitchen counter-top space.
√ Easy & intutive course settings and design - makes it easy for elderly to use too!
√ ideal for a variety of uses even after weaning.
Can also be used to sterilize other children items (eg. water bottle, feeding accessories, teether, pacifier, toothbrush, nasal aspirator, comb, toys) and household items (eg. cutlery, dishware, cups, knives, cutting boards, nail clipper, razor).

Efficient & convenient sterilization mode for busy parents.
No need to constantly load water into steam sterilizer or spend time boiling the traditional way & manually dry items on drying rack after boiling. UV sterilization uses pulses of UV light that are powerful enough to inactivate microorganisms (germs, bacteria & viruses). UV sterilization is often used in the medical field as it ensures the highest level of disinfection.

Easy maintenance.
No need to regularly use lemon water to descale the deposits that accumulates within electric steam sterilizer machines and around its heating coil. Simply use slightly damp cloth to wipe trays and internal surface areas of sterilizer cabinet, whenever necessary.

Excellent drying function via infrared technology prevents mould accumulation.
Examples where mould tends to occur are: on teat collar, insides of a sippy cup straw, inside rims of a child's water bottle, breast pump tubing, breast pump valve parts, toothbrush, etc.

Product Size: 270 x 316 x 395mm (W x D x H)

Product weight: 4.5kg