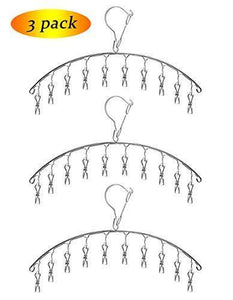 Hamek 3 Pack Stainless Steel Clothes Drying Rack 10 Clips Metal Clothespins, Portable Laundry Drying Rack Clothes Hanger
Regular price
$11.88
Sale price
$16.75
Brand: Hamek
Features:
All Made OF High Quality Stainless Steel: Metal construction and metal clips are much more sturdy than the plastic ones, so they would not snap and break off like other plastic version.One piece integrated spring mechanism's tension is much stronger than weak wooden clothespins and guaranteed not to break or fall apart. Easy to open hanging clips are perfectly spaced to efficiently maximize air flow.
MULTIFUCTION: Fit All Kinds of Cloth, Both for Indoor and Outdoor. It is designed for both hand washing and machine washing items, such as stockings, baby clothing, sports bras, compression shorts, leggings, garters, socks, scarves, hat, ties, handkerchief, sweaters, towel, glove etc. Easy to hang it on closets, shower curtain rod, laundry room, outside clothesline etc.
STURDY CONSTRUCTION:4.0mm in bold , durable, strong bearing and high strength against corrosion rust. Consummate Welding Technology + High Quality Stainless Steel Material+ High Stretch Clips.
EASY TO CARRY: Great for camping, caravanning or on holiday abroad.
SAVE SPACE: Its unique design helps save space while drying clothes. Perfect for hanging those delicate items in your laundry room without stacking them all up.
Publisher: Hamek
Details: Feature

Space saving design---10 Hanging Pins to Securely Hold ClothesCollapsible for easy storage.

Environmental friendly---Dry your clothes in naturally air and sunlight. Safe.Healthy. Save your money spending on clothing dryer.

Windproof hook---Lock the hook on clotheslines or rods, it will never slide off in winds.

Strong clips---The one piece integrated spring clips grip your clothing tightly without any damage.


Packing Include :

3 X 10 Clips Stainless Steel Hanging Laundry Rack

UPC: 703931384033
EAN: 0703931384033
Package Dimensions: 18.0 x 8.3 x 1.5 inches