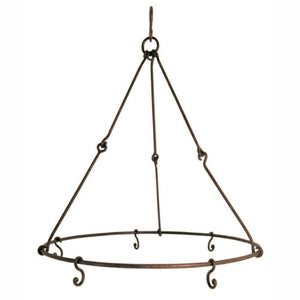 GARDEN TRADING | Herb & Flower Drying Rack
Regular price
$35.00
$0.00
GARDEN TRADING  Herb Drying Rack
Dry your home grown herbs the traditional way with Garden Trading's Herb Drying Rack.
This simple and classical herb drier enables you to enjoy herbs year round. Simply tie a bunch of herbs to the forged hooks in a dry airy space. Adds a touch of country living to your kitchen.
Hand forged from steel, quality design will last you for years to come — just cut, tie, and hang! Try it with flowers, garlic, and hot peppers too.
For drying freshly cut home grown herbs so they can be stored and used throughout the rest of the year.
Supplied with 6 hanging hooks. Can be hung from a bracket or a hook.
Base Diameter - 355mm or 14"
Works equally well for flowers and other natural flora too.
ABOUT GARDEN TRADING:
The Garden Trading collection embraces a clean, practical and uncluttered lifestyle. Combining classic materials with innovative designs; this range of products for the home and garden adds distinctive style in any setting.