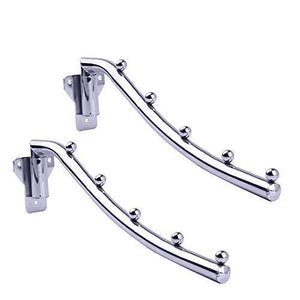 Duvengar Clothes Hanger Organizer Rack Sturdy Metal Clothes Caddy Storage Holder Stacker for Closet & Room Tidier Laundry Rooms Drying Rack
Regular price
$14.99
Sale price
$21.14
SPACE SAVING DESIGN - It can swing 180 degrees to the left and right; You can swing it close to the wall to save space when you don't use it.
HIGH QUALITY MATERIAL - The hanger organizer made of high quality Metal, meaning that it complements the decor in your home.
MULTIPLE APPLICATIONS - This is ideal for the space that has in your home, bedrooms, bathrooms, closets and office. It not only can hang clothes, also can hang hat, bag, necklaces where they wouldn't get all tangled up.
EASY INSTALLATION - Package comes with matched install fittings and easy to install. Take up very little space.
BIG CAPACITY - Prevent tangling and breaking of your hangers by storing extra ones safe. Can hold up to 5 hangers neatly organized and easily accessible.