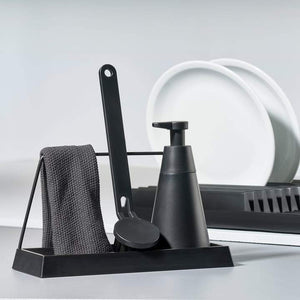 Dry Art Washing Up Set (3pcs) by Zone Denmark
Regular price
$105.00
$0.00
The 3-piece Dry Art washing up set by Zone Denmark is a design by Lasse Sortkjaar, who has been pursuing the goal to create an orderly and uniform look in the kitchen.
The washing-up set includes a washing-up brush, a soap dispenser and a storage surface on which the necessary tools can be kept in one place. Thanks to the thin metal wire on the tray, the ensemble can easily be picked up and rearranged in the desired location next to the sink. It can also serve to hang up the dish cloth to dry.
The brush can be casually leaned against the metal rod and is held in place by a magnet. Due to the slight angle in the handle, the brush is comfortably held in the hand so that optimum pressure can be applied on the brush head. The set is completed by a conical shaped soap dispenser for washing up liquid.
The minimalist shape of the set fits perfectly into any kitchen and ensures a tidy and uniform appearance by the sink. Set of 3 with drying rack, brush, washing-up liquid dispenser.
Material
ABS, metal
Colour
Black
Dimensions
15cm H x 10cm D x 25cm L