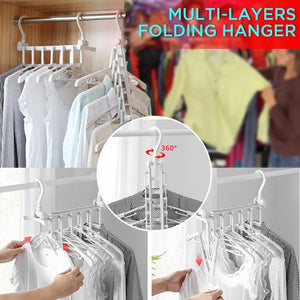 Double Hook Multi-Layers Folding Clothes Hangers
Regular price
$22.99
Sale price
$45.99
Bring your closet challenges! Double Hook Multi-Layers Folding Clothes Hangers works like magic on heavy coats, bulky purses, tons of shirts and blouses - they're no match for the durability and strength of this.
Made with durable ABS Material, this efficient, magical space-saving closet hanger design frees up space while keeping your garments wrinkle-free. Great for dorms, apartments or anywhere with limited space. 
Product Features

【6 in 1 DESIGN】:

A magic hanger can hold 6 pieces of clothes, which gives you more convenience when you need to dry wet clothes. It can maximize the wardrobe space by 50%. You can make an effective classification with your seasonal clothes/shirt or T-shirt on several magic hangers, your closet will be neat and tidy.

【FOLDABLE】:

This Closet Hangers Can be Hang Vertically to Help Organize Your Closet. To Open or Close Button Allows You to Easily Hang or Collect Clothes, Protect Your Collars Well.

【360° ROTATION】:

360-degree rotation, uniform lighting, so that the sun always face to face; Easy to store, save time.

【NON-SLIP & ADJUSTABLE】:

The Closet Hangers Have a Wider Shoulder Design. Allow Your Clothes to Leave No Trace. Non-Slip Design Help You Hang Clothes Easily and You Will Not Worry About Your Clothes Falling Off.

【Multi-Function】:

Clothes Hangers Can be Used as a Drying Rack. It has two sturdy brackets that allow you to hang anywhere you want anytime. This coat hanger not only allows you to classify your clothes but also saves space. Also, be used for outdoor travel drying racks.
Product Details
Keep Clothes Organized & Wrinkle Free!
Rotating swivel hooks and patented open mouth design provides 360°  access to add or remove clothing quickly and easily!.
Each hanger can hold 6 heavy winter coats, even can hold 6 heavy quilts, Now That's Strong!

 
Product Includes
1 x Double Hook Multi-Layers Folding Clothes Hangers