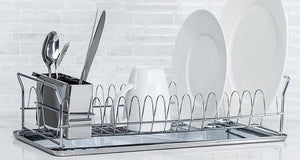 Diamond Metal Dish Drying Rack For Home Use with Cutlery Holder
Regular price
$19.99
Sale price
$39.99
Avoid a messy counter and save time with the Dish Drying Rack. You can neatly store your dishes and cutlery in one convenient location to air dry, saving you the time of drying each one individually and enhancing your kitchen at the same time.
To ensure your finest dishes are safe and secure, this rack is expertly crafted using heavy-duty metal with a durable chrome finish to provide long-term strength and use for years to come. This finish is also resistant to rust, corrosion and damage to hold up against everyday wear and tear.
Measuring 18.5" L x 8.25" W x 4.25" H, the space-saving compact design takes up minimal counterspace while maximizing efficiency. It has slots to accommodate up to 12 plates or bowls, or you can use the center of the rack to air dry glasses, cups and mugs. A cutlery holder on the side features split compartments for easy sorting of your forks, knives and spoons.
The metal drying tray and cutlery holder are both removable, making it easy to clean when needed and drain excess water. Drainage holes underneath the cutlery holder also allow the water to drain freely into the sink when storing dishes to prevent water backup.
With its clean, sleek lines and contemporary style, this easy-to-incorporate dish drying rack will seamlessly fit into any modern kitchen space The brilliant chrome finish will add a radiant shine to brighten up your kitchen, beautifully reflecting your existing decor and complimenting your stainless steel appliances.
Condition:
New
Warranty:
30 Day Warranty
Features:
High-quality construction
Sleek, modern design
Compact and easy to store
Time-saving kitchen accessory
Easy to clean
Packaging:
Retail
What you get:
One [1] Diamond Metal Dish Drying Rack For Home Use with Cutlery Holder