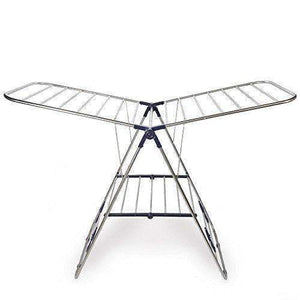 Cresnel Heavy Duty Stainless Steel Clothes Drying Rack - Rust-Proof Guarantee - Premium Quality
Regular price
$39.95
Sale price
$49.95
CRESNEL Heavy Duty Stainless Steel Clothes Drying Rack - Rust-proof Guarantee - Premium Quality -

Brand: CRESNEL
Color: Stainless Steel
Features:
Original Cresnel brand now with 2017 newly improved quality. Besides indoor use this rack can now withstand outdoor use under direct sunshine or rain without becoming rusty. This rust-proof claim is backed by Cresnel free lifetime replacement warranty.
Expansive top planar area of 58" x 24" provides generous drying area for typical household wash load. Hang dry your laundry onto the multiple rails or with hanger for an even larger load. Bottom rack will accommodate shoes and slippers.
Weight approximately 7lb it is highly portable allowing it to be moved from indoor to outdoor or room to room easily. When not in used, it is foldable into flat rectangular shape of 40" x 24" x 3" for storage without taking up significant space.
Comes fully assembled in sealed plastic wrap. No tools required, just expand the rack into "A" shape and flip up the left/right panel and it is ready for drying action.
The long-term energy cost saved from utilizing this drying rack will more than pay for the rack itself. Good for your wallet and good for our environment.
Publisher: USA
Details: Unlike typical painted steel or chrome plated rack, this rack is made of pure stainless steel. Only stainless steel rack can be used both indoor and outdoor without becoming rusty. Its versatile foldable design allows easy storage without taking up spaces. This quality drying rack rack is covered with money back satisfaction guarantee, and 1 year manufacturer warranty.
UPC: 885424621167
EAN: 0859432002362
USD price as of publishing date listed on our website-