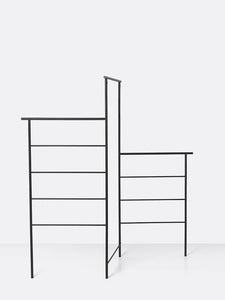 Clothes Stand - Dora - Powder Coated Metal
Regular price
$210.00
$210.00
Consisting of three panels of sleek, powder-coated metal, the Dora Clothes Stand forms a minimal storage solution with a hint of Japanese aesthetic. Use it as a stylish drying rack, which can be folded so that it doesn't take up a lot of space when stored. Or use it as a simple room divider that lets you display your favourite garments while creating a beautiful sense of space in larger rooms.
Dimensions
Material
When can I expect my custom order to arrive in store?
We do not keep this item as a stock item, there is a 4-6 week lead time to custom order them but this may differ depending on stock availability. Once the order is placed we can advise you the exact ETA. 
Order Terms
We do not offer returns or exchanges on custom ordered items. If you are unsure of the finish please call in store to see our display model and we will be happy to advise
This item is only available for collection in store. If you would like us to get a quote for delivery, please call the store on +3531 613911