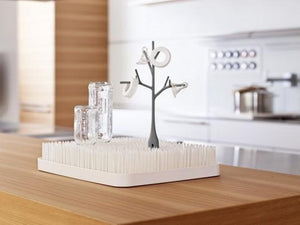 Boon Lawn Drying Rack White
Regular price
$49.95
$0.00
Basically, we took everything you love about GRASS and made it bigger. The flexible grass blades hold all your just-washed baby accessories. (And whatever else you want.) Plus it's like having a fairway next to your kitchen sink. Minus any gophers. Or golfers. Bonus: No mowing required.
The Boon grass range and accessories are also perfect for drying reusable food pouches!
Low-profile drying rack looks great in any kitchen
Perfect for drying items of all shapes and sizes
Easily holds items upright for drying while excess water collects in bottom tray
Two-piece, easy-to-clean design
Recommended age: ADULT
BPA-free, Phthalate-free and PVC-free
Dimensions: 13.5" x 11" x 2.5"
*NOT Dishwasher-safe. Wash thoroughly before initial use and periodically. Hand wash in warm, soapy water. Rinse thoroughly and air dry. DO NOT microwave. DO NOT boil or sterilize