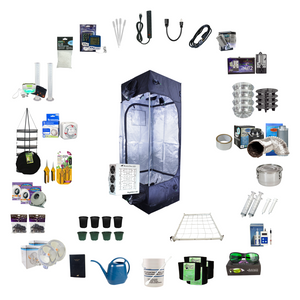 Black Dog LED 2.5' x 2.5' x 6.5' Complete LED Grow Light Kit
Regular price
$2,279.00
$0.00
Black Dog LED has taken all the guesswork out of selecting the best equipment for an LED grow tent setup!
Each Complete LED Grow Kit is created using the best the industry has to offer. 
Black Dog LED starts with a genuine Black Dog LED PhytoMAX-2 200 or 400 grow light.
Next, they include the Pro white interior BudBox Tent, and dozens of other top quality products. 
The complete grow kit is designed to ensure maximum yields with minimal effort! 
Included items
PHYTOMAX-2 LED GROW LIGHT
PhytoMAX-2 200
For great vegetative and flowering results

Flowering Footprint:

 

3' x 3'

Vegetative Footprint:

 

3.75' x 3.75'

Size: 12x12x4.4 inches (31x31x11cm)
Weight: 14 lb / 6.4 kg
True Wattage: 210w
Number of LEDs: 84
Amp Draw: 1.8A~0.90A
Voltage: AC 100V-250V
Work Frequency: 50-60 Hz
Operating Temperature Range:

 

4 - 104 °F

BTU: 716
- OR -
PhytoMAX-2 400

For commercial-level vegetative and flowering yields

Flowering Footprint:

 

4.25' x 4.25'

Vegetative Footprint:

 

5.25' x 5.25'

Size: 15.75x15.75x4.4 inches (40x40x11cm)
Weight: 24 lb / 10.9 kg
True Wattage: 420w
Amp Draw: 3.5A~1.8A
Voltage: AC 100V-250V
Work Frequency: 50-60 Hz
Operating Temperature Range:

 

4 - 104 °F

BTU: 1432
GROW CONTAINMENT
Sun Hut Fortress 45 Grow Tent (2.5X2.5)
Tent Dimensions (L x W x H):

 

30" x 30" x 85"

Weight: 30 lb. (13.6 kg)
Thread Density: 1680D
19 mm poles
Rubberized waterproof floor
Slide-SCROG Kit 
Sized specifically for your tent
Designed for easy installation and use
Includes: (4) poles, (4) corners, (4) ratchets, SCROG netting, zip ties for securing netting 
VENTILATION AND AIR CIRCULATION
Monkey Fan 20W Tent-Pole-Mount Oscillating Fan
Easy to mount oscillating fan designed for tents
2-speed settings
6' cord with non-grounded 120V plug
Oscillation can be turned off or on
6.6" fan diameter
8.3" fan guard diameter
Easy adjustment of fan mounting height and angle
4" Can-Fan S Series 400 
RPM: 3305
CFM: 201 / 264 / 334
Volts: 115
Watts: 52 / 62 / 70
Amps (max): 0.7
4" CanLite Carbon Filter
Max CFM: 250
Pre-filter: Yes
Flange: Built in 4"
Height: 38 cm / 15"
Total Weight: 4.08 kg / 9 lb
4"X6" Phresh Intake Filter 
Removes 99.9% of insects, molds, dust, and pollen
Flange: 4"
Total Weight: 0.7 kg / 1.55 lb
100% recyclable and made from 90% recycled materials
Durabreeze Ducting 4" x 25'
Strong, tear-resistant construction
Black inner core to minimize light reflection during dark cycles
Aluminum Duct Tape
15' long, 1.875" wide
Ideal for making air-tight seals between ducting and fans or filters, or joining ducting
Humidity and moisture resistant
Completely blocks light, if any light leaks need to be patched
MONITORING AND CONTROL
Black Dog LED Grow Glasses 
Perfect color correction of the PhytoMAX-2 series for the human eye
Made by Method Seven, the leader in grow room optics
Carl Zeiss lenses
Formulated specifically for the Phyto-Genesis Spectrum
Intermatic Heavy-Duty Grounded Timer TN311 

3 ON / 3 OFF settings per day with removable trippers, more ON/OFF events with addition of extra trippers
Minimum 30-min ON/OFF time
Grounded receptacle and 3-prong NEMA 5-15 plug
Plugs directly into wall outlet
Manual override
Maximum wattage load: 1750W

HT-2 Humidity Temperature Controller 
Separate day and night temperature settings
Separate day and night humidity settings
Remote sensor with 25-foot cable included
Bar graph display
Blueprint Digital Min/Max Hygrometer-Thermometer, Large 

Displays indoor and outdoor temperatures simultaneously with indoor humidity level
Stores maximum and minimum values
Readout adjustable to English (Fahrenheit) and metric (Celsius)
Wall mountable or can be used free-standing
Fold-out stand for tabletop display
Remote wired sensor for second temperature reading

Black Dog LED Grow Journal 
Templated weekly entry pages for 20+ weeks
Monthly and annual calendar views
Garden planning pages
Quick reference charts and helpful diagrams
A5 size - 5.8" x 8.3"
Illuminated Microscope
60X magnification
Focus-adjusting lens barrel
Illuminated with 3 LEDs
High and low light settings
Green LED Head Lamp 

Rechargeable with Micro USB
Long battery life
Can be aimed straight ahead down to 45 degrees
Technical Spec: 160 lumens, 1200mah battery
Re-Usable Plant Tags 
White plastic plant labels
6 inches tall and .625 inches wide
Perfect for labeling mothers, seedlings and clones
25 per bag
Includes Pencil
ROOT ZONE
13" Pot Elevators 
Prevents root damage
Crucial for preventing root rot and other mold issues
Helps promote overall plant root health by maximizing aeration
Aids in the easy removal of excess water from tray/saucer
Deep Pot Saucers - 16" 
Keeps your plant roots healthy
Deep dish holds more run-off
3-3/4 inch depth
Plastic Pots 
All necessary pots included for clones / seedlings up through flower
Plastic pots make the transplant process simple
High quality, heavy duty plastic
Smart Pots 
Cloth allows for more even and deep cycling
Re-usable - just run through a clothing washer and sterilize
Cloth encourages healthy root growth and natural air pruning
Roots naturally grow into soft surfaces avoiding root-binding
Made in USA to avoid issues with toxins leeching into your soil
NUTRIENT MEASURING, MIXING, AND APPLICATION
Bluelab Combo Meter 
Measures pH, conductivity / nutrient (EC, CF, ppm 500 and ppm 700) and temperature (°C, °F)
Lightweight and portable
Large easy to read display
Simple push button pH calibration
Successful pH calibration indicator
No calibration required for conductivity and temperature
Replaceable double junction pH probe included
Over range and under range indicators
Low battery indicator
2 x AAA alkaline batteries included
Auto off function
5 Gallon Graduated Measuring Bucket 
Made from semi-transparent, white heavy-duty plastic
Foam comfort grip handle for easy lifting and carrying
Syringe - 10ml 
Graduated syringe for exact nutrient and pH measuring
Syringe - 60ml 
Graduated syringe for exact nutrient and pH measuring
Pipettes - 5ml
Graduated pipette for exact nutrient and pH measuring
Graduated Cylinder - 250ml 
Flared top rim and large spout for easy pouring
Anti-roll octagonal based
Bloem Watering Can - 1 gallon 
Capacity: 144 oz. / 1 gallon
Single-piece construction eliminates leaks
Various colors
Plastic Spoon - 24" 
Long 24" handle
Perfect for mixing large buckets of nutrients
Plastic so it will not react with nutrients
TRIMMING, DRYING, AND CURING
Trimming Scissors - Curved and Straight 
2" blade
Strong, durable, and easy to clean
Easy lock mechanism for safe storage
Can be used left or right handed
Drying Rack 
5 mesh 24" shelves
Bottom solid shelf for catching falling material
Included carabiner clip for easy hanging
Snap-clips for easy addition and removal of shelves
CVault Curing Container - 4 liter 
Stainless steel for a clean cure
Holds about a half pound of material
Air-tight seal to ensure proper environmental control
Wide mouth design
ELECTRICAL AND HARDWARE
Power Strip 
6 NEMA 5-15R (female) outlet receptacles
12" cord
15 Amps / 125 Volts
UL and cUL approved
Extension Cord - 8 foot 
NEMA 5-15P to NEMA 5-15R
Rating 125V / 13A
16 AWG
Perfect for reacing those items inside of your tent
UL listed
Extension Cord - 1 foot
NEMA 5-15P to NEMA 5-15R
Rating 125V / 13A
16 AWG
Perfect for freeing up outlets with large plugs
UL listed
Extension Cord - 8 foot Polarized (non-grounded)
8 foot length
16 AWG
NEMA 1-15P Polarized to NEMA 1-15TT
Rating 125V / 13A
UL listed
Heavy Duty Ratcheting Light Hangers
Heavy-duty metal gears
One handed operation
Secure up to 150 pounds total