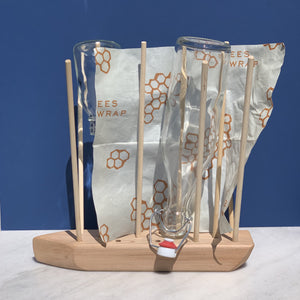 Wood drying rack
Regular price
$28.00
$0.00
These lovely wood drying racks are hand carved to hold water bottles, glass jars, beeswax wraps, reusable baggies, whatever else you wash, rinse and dry in your kitchen. They look beautiful on the counter and help things dry quickly by letting water drain out and air circulate.
The removable dowels make it easy to store in a drawer or cabinet, and you can rearrange them to hold whatever you need. We love that it's Seattle made and shaped like a little ship!
Use and care
Let dry between uses. Remove dowels to store when necessary. Hand wash to keep clean. 
Size
The base is 11 1/2" long by 2 1/2" wide by 1 1/2" tall off the counter. The dowels are 11" long.
Materials
Unfinished pacific NW red cedar
Packaging
Brown paper and a recyclable paper label.
Origin
Hand carved in Seattle by an awesome guy named Bill.
End of life
Compostable, even in backyard compost.