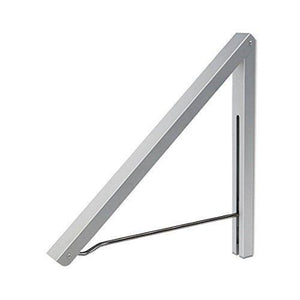 Anjuer Wall Mounted Drying Rack Clothes Hanger Folding Wall Coat Racks Aluminum Home Storage Organiser Space Savers
Regular price
$14.98
Sale price
$21.12
Brand: Anjuer
Color: Silver
Features:
This clothes wall hanger is made of high quality aluminum, non-corroding, a good light weight but sturdy and durable small item. Open size: About 12.6 x 11.42 x 1.18 IN / 32 x 29 x 3 CM (W x D x H); Closed size: About 14.69 x 1.18 x 0.71 IN / 37.3 x 3 x 1.8 CM (W x D x H)
Easy to install! And easy to clean!
A super space-saving device! A good home helper! If you not only want to increase the space for hanging clothes but also need to reduce space for hanging; or you live in a small house, space is valuable; or want the clothes to dry faster, and this product does exactly what you wanted
Easy to open and easy to fold away. When you open the coat wall rack, it can gives you about 10 inches of space to hang clothes. When the rack is closed its dimensions are very compact and sleek-looking, and you can open it when your guests arrive. Finally you can call lot of friends for a party and test your new foldable coat rack!
Gives you an "instant clothes closet" anywhere. This clothes rack can support up to 60 pounds, So you can use it hang clothes in spare room, bedroom, the side of wardrobe, utility cupboard, small space, etc...
Legal Disclaimer: Anjuer brand is only owned by LilBit Tech-Kaisuda. So any other sellers selling under this listing is illegal. For my dear customers, when you are ready to purchase this product, pls check that is sold by LilBit Tech-Kaisuda.
Publisher: Anjuer
Details: Great design and well made space saver! Easy to fold away and easy to open. It takes up minimal space unlike the usual hangers! Gives you the convenience of instant extra storage space.
It is ideal for small spaces, out-of-the-way corners, bathrooms, beside a pool, and much more! Makes your house looks neat and tidy.
It is creative hanger with which one you can no worry about clothes slipping, it takes a little space but hangs enough clothes and can lift about 60 pounds of them. Recommend!
It will be very nice to give your guests a place to put their coats on hangers, instead of the traditional "just throw your coats on the bed". Or perhaps you'd like a rack where the family can hang their winter coats during the cold weather, but will fold up and disappear in the summer when coats are packed away.

Specification:
Model name: Clothes wall rack
Brand name: Anjuer
Color: Silver
Material: Aluminum + Iron
Net weight:About 0.49 LB (0.22KG)

Package include:
1 x Bracket
2 x Anchor plug
2 x Screw

Installation guide:
1. Draw two marks on the wall at which you decide to install the rack
2. Drill a hole on each mark using a 6 mm (diameter) drill bit
3. Insert the anchor plugs, mount the bracket(grooves upward) using the screws provided
4. Attach the rack to the bracket. Quick installation!

Please note:
1. Please do not let your children play it!
2.Please allow 0.1% defective rate, any quality or service issues, pls contact us first, we are promise to give you better solution, thanks very much for support.
UPC: 694090832377
EAN: 0694090832377
Package Dimensions: 15.1 x 1.5 x 0.9 inches