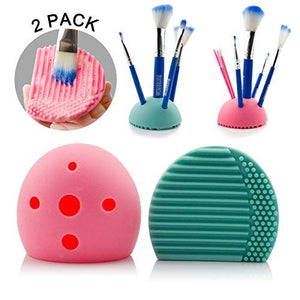 2 Pcs Cleaning Makeup Brush Holder,Makeup Organizer,Egg Cleaner Holder Silicone Washing Brush Scrubber Board Cosmetic Clean Tools
Regular price
$14.06
Sale price
$27.11
UNIQUE DESIGN WITH GREAT FUNCTION - Don't need to buy the drying rack with IBEET special holes on surface which can be dry off your brush that keep away from bacteria.Only support 0.3 below

NO PINCH YOUR SKIN - The wider openining can put into 2 fingers,you can slip two fingers inside it, or just hold it from the outside.

THOROUGHLY CLEANED - Made from soft silicone,can gently and safely clean all of your makeup brushes.Two texture patterns allow tbe brush cleaning completely.

LOVELY SHAPE 2PACK - Come with 2 cute brush eggs,small and portable.Attractive colors and undeniable usefulness of this brush cleaner set all combine to make it a great gift.

100% Money-Back Longtime Guarantee so you can order with confidence

Color : A-Pink & Green 2 PCS

Wash and Dry Brush Thoroughly

1)Made from soft silicone,can gently and safely clean all of your makeup brushes.Two texture patterns allow tbe brush cleaning completely.

2)Don't need to buy the drying rack with IBEET special holes on surface which can be dry off your brush that keep away from bacteria.


Quick,Clean and Efficient

1)Washing makeup brushes by hand is messy and time-consuming,but using soiled brush is not a good chioce.Only one cleaning tools can keep makeup grime away!

2)Removing makeup residue and germs from your brushes never so easy,quick,clean, and efficient.


Yuck! Brush Heads Are Usually Moist

If you don't clean your brushes, you end up putting bacteria and other microbes on your skin every time you apply your makeup.The Brush Egg can make you out!


After cleaning to satisfaction, remove any remaining soap under warm running water (again, brush facing down) and gently reshape the bristles as needed.



WARRANTY
We stand behind our product and we provide you with a

100% MONEY BACK GUARANTEE - If you are not completely satisfied!