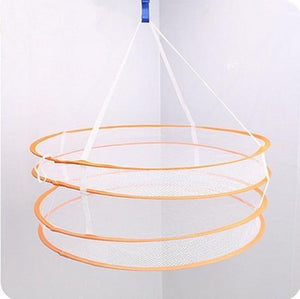 2-Layer Folding Mesh Drying Rack
Regular price
$13.97
Sale price
$27.97

No More Clips on Your Teddy Bears' Ears
Teddy bears live like you that bath is essential to them. Yet shape change happens all the time after clipping their ears and hanging them. The 2-Layer Folding Mesh Drying Rack is your best option to dry your teddy bears without hurting them to maintain their original shape.
Usually the case with knitted jumpers, this method avoids the weight of the material – which gets very heavy when wet – from sinking to the bottom, causing the jumper to stretch.
Air-dry allows clothes, socks and other washable stuff to take advantage of the fresh air which saves energy. Other than that, the drying rack is foldable for you to save space when finishing drying.
Highlights:
Flat drying is recommended for garments which are easily distorted by vertical drying.

Avoid shape change

: 

keep teddy bears, bras, sweaters, knit-wears or expensive clothes from being out of shape

Ideal for small garments

: underwear, hankies, ties & socks

Energy saving

: breathable mesh construction for air-dry

Foldable design

: space-saving & convenient for storage

Food drying possible

: e.g. fish, dried meat, vegetables & etc.
Dust-free & no hanger marks on clothes
Specifications:
Material: Polyester mesh, PP hook, Steel ring
Pattern: Double layer
Size: 58 x 58 x 53cm
Load Capacity: 5 kg
Color: Yellow, Purple, Pink, Blue & Green
Package Includes:
1pc - 2-Layer Folding Mesh Drying Rack