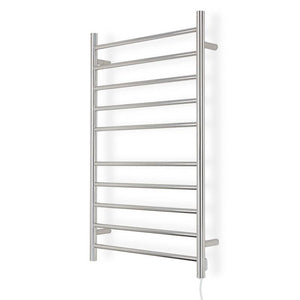 10 Rung Round Style Heated Towel Rack
Regular price
$171.90
Sale price
$174.00
FREE SHIPPING offer on this product extended to 30th September 2019
10 Rung Round Style Heated Towel Rack
Wrapping yourself in a warm and dry towel is the exquisite finishing touch to any shower or bath. Not only does it make for a sensational feeling; you'll also be comforted by the knowledge that you're enjoying the ultimate in hygiene. With a quick-drying rack, you're avoiding build-up of mould, mildew and bacteria, ensuring that you can always reach out for a fresh towel.
Installation is easy and can be done without the assistance of an electrician, for your convenience. Don't wait any longer in buying this perfect space saving and versatile product.
Features:
Fits heated towels for the whole family with 10 rungs
Polished stainless steel
Contemporary elegant design
Reduces mold, mildew and bacteria
Rust proof
Fast warm up time
Saves energy
Heavy duty cord
Waterproof Power switch
Certified for use in Australia
Package Includes:
1 x Bio 10 Rung Heated Towel Rack - Round Style
User Manual included.
Add this to your cart today, and pay over time with your choice of Afterpay, zipPay or LayBuy!