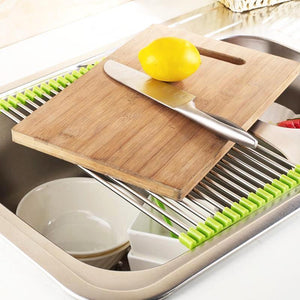 🌲 Roll Up Sink Drying Rack 🌲
Regular price
$35.99
Sale price
$49.99
Whoever thought of this amazing multi-purpose kitchen tool is a genius! Not electric, not even mechanical, super simple design - yet sure makes kitchen work a whole lot easier. The Roll-Up Drying Rack is a multi-functional and space saving tool you're bound to love. 
A sink topper, colander and drying rack: Just unroll it and attach to your kitchen sink and you can use this to wash your veggies and fruits and defrost meat - perfect for prepping up your ingredients. It also makes a great drying rack for when you're done washing your dishes.
A grilling/roasting rack: Made with heat-resistant stainless steel and silicone, it makes an ideal alternative rack you can use for grilling or roasting, and also perfect as a portable barbecue for your picnics, camping and backyard parties.
Use it to keep your tables, countertops and any surface safe from hot pots. Serve hot meals even straight from the pan.
Space saving, you just have to roll it up when not in use so you can conveniently store it in your kitchen drawers or cupboards, or easily carry it around on your next outdoor trip. 
PRODUCT SPECIFICATION
Material:
Heat resistant stainless steel and silicone 
Max. Temperature:
400°F (204°C)
Size:
Approx. 47 x 22.8cm 
Package Inclusion:
1 pc. Roll Up Drying Rack